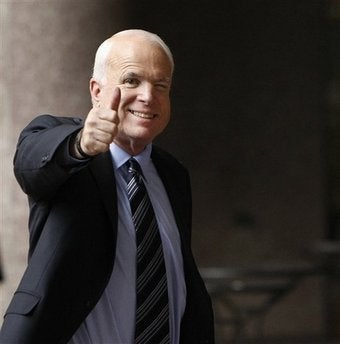 Weeks after John McCain mocked Barack Obama for raising money in Hollywood "with his celebrity friends," the Arizona Senator is slated to join his wife for a fundraiser on Los Angeles' Avenue of the Stars this Wednesday.
The McCain-Palin Victory California Leadership team is sponsoring the October 1 event at the Century Plaza Hyatt Regency in L.A. Supporters who bundle at least $250,000 receive entrance to a host committee dinner and private reception; others can attend the general reception for $1,000 per person (or $2,500 per person for a limited edition "McCain-Palin CA" lapel pin).
The event comes two weeks after McCain chided Obama for fundraising in southern California. "He talked about siding with the people just before he flew off for a fundraiser in Hollywood with Barbra Streisand and his celebrity friends," McCain told a crowd in Ohio. "Let me tell you, my friends, there's no place I'd rather be than right here with the working men and women of Ohio."
All told, the McCain event could be incredibly lucrative for the Senator's Victory Committee (his own campaign is currently operating off of public funds). No word yet who is attending - but don't expect Streisand to be on the list.