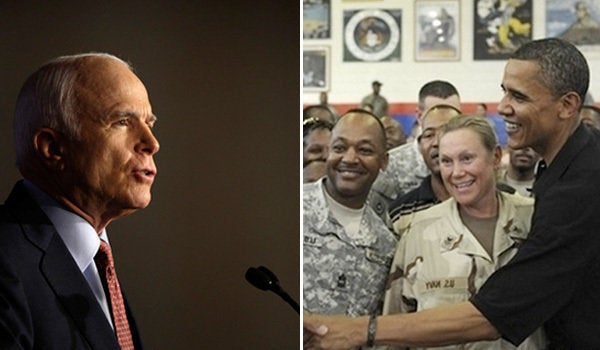 John McCain is welcoming Barack Obama back to America with a hard right cross.
The message of the Republican's new attack ad that debuted Saturday both perfects and makes more harsh a theme that his campaign has been developing for weeks: specifically, that the Illinois Democrat does not care about American troops. Drawing from Obama's one tactical misstep during his week-long trip abroad -- a canceled visit with wounded troops in Germany, the cause of which was a debate with the Pentagon over political propriety -- the McCain campaign nevertheless believes they have a useful new plot point at their disposal.
When viewed alongside the 900 days that elapsed between visits to Iraq, and his symbolic vote against one round of funding for the war, the McCain camp now hopes the canceled visit in Germany provides a three-act structure to their dramatic imagining of a conflict between Obama and the troops.
Of course, in one particular aspect, McCain's playwrights have resorted to wholesale fiction in order to craft their narrative. However complicated the issue of Obama's canceled troop visit has become, no one -- not the campaign, and not the Pentagon -- has cited a prohibition on "bring[ing] cameras" along with Obama as a reason for the trip's scuttling.
In another distortion that could be viewed as funny were it no so manipulative, McCain's video editor selected footage of Obama sinking a three-point shot to represent time spent at the gym instead of with troops. Of course, that footage was taken in Kuwait, not Germany, at an event for ... troops.
"John McCain is an honorable man who is running an increasingly dishonorable campaign," said Obama campaign spokesman Tommy Vietor in an email to reporters Saturday evening, adding: "Senator McCain knows full well that Senator Obama strongly supports and honors our troops, which is what makes this attack so disingenuous. Senator Obama was honored to meet with our men and women in uniform in Iraq and Afghanistan this week and has visited wounded soldiers at Walter Reed numerous times. This politicization of our soldiers is exactly what Senator Obama sought to avoid, and it's not worthy of Senator McCain or the 'civil' campaign he claimed he would run."
The Obama campaign also sent along an excerpt from the Congressional Record meant to embarrass McCain for his present tactics. In a floor speech from May 2007, the Arizona Republican said:
"How can we possibly find honor in using the fate of our servicemen to score political advantage in Washington? There is no pride to be had in such efforts. We are at war, a hard and challenging war, and we do no service for the best of us-those who fight and risk all on our behalf-by playing politics with their service."
In June, McCain apologized for using the image of Gen. David Petraeus in a political mailer, saying that politicization of the military would "not happen again" in his campaign.
Still, it appears that there's something of a pattern to the recent ads coming out of McCain's campaign. Compare the latest to another from last week, entitled "Troop Funding":
Is it a coincidence that such consistency of message on a blunt force topic like support for troops comes in the first month after Karl Rove protégé Steve Schmidt took over the day-to-day reins of McCain's campaign? If so, look for much more of this between now and November.
Script For "Troops" (TV :30)

Anncr: Barack Obama never held a single Senate hearing on Afghanistan.

He hadn't been to Iraq in years.

He voted against funding our troops.

And now, he made time to go to the gym, but cancelled a visit with wounded troops.

Seems the Pentagon wouldn't allow him to bring cameras.

John McCain is always there for our troops.

McCain. Country first.

John McCain: I'm John McCain and I approve this message.
UPDATE: Rhode Island Democrat Sen. Jack Reed responds to McCain's ad:
I was with Senator Obama last week as we met privately with troops in Iraq and Afghanistan. Senator Obama listened to their concerns and expressed his gratitude for their service without press or fanfare. He cares for our troops deeply and has worked hard to give them not only the resources they need, but also honor their service with a clearly defined mission and by providing them with the support they have earned when they come home. And just as Senator McCain's support of President Bush's veto of funding for our troops doesn't mean he does not support them, neither does Senator Obama's insistence that we not give George Bush a blank check.