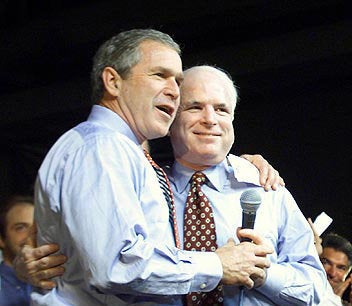 On the same day that a CBS News poll found that 64 percent of Americans think Sen. John McCain is the same or even more conservative than President Bush, news has leaked that McCain will be "snubbing" Bush at an upcoming fundraiser.
"McCain will not attend President Bush's fundraising dinner for congressional candidates," The Hill reported, "in another indication that the GOP nominee is distancing himself from the man he wants to replace."
But a look at McCain's public schedule finds that the presumptive GOP nominee has no other public events scheduled for the day of the Bush event.
McCain's campaign did not comment but the National Republican Congressional Committee (NRCC) confirmed that the Arizona senator will not attend the annual event, which will take place on June 18. A source familiar with McCain's schedule said he is expected to be in Texas on June 18.

"Maybe he found a better dinner?" Republican Study Committee Chairman Jeb Hensarling (R-Texas), chair of the event for the NRCC said. "When he's the president, he can attend lots of president's dinners."
Popular in the Community