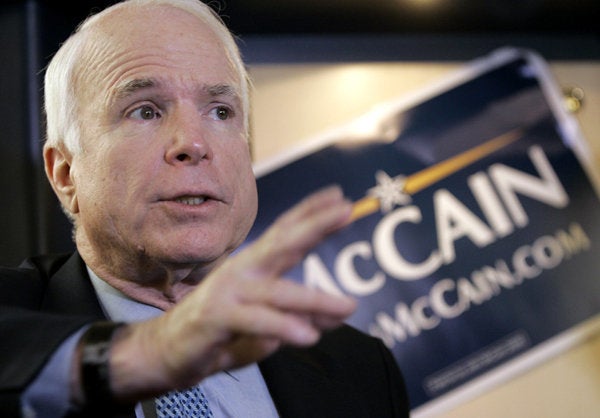 During a nearly hour-long Q & A session with reporters aboard his bus Friday, McCain said he still has hope that Obama will take him up on his joint-town hall proposal but now calls the prospect that the appearances will take place "very, very unlikely."
"I still have hope but so far it appears that its very, very unlikely," McCain said aboard his Straight Talk Express bus today as it rolled through eastern Ohio. "But I'll keep asking for it. I think there are some events where we are... supposed to both be speaking to and I would hope that maybe he would join me at those. But, it doesn't seem that-we haven't gotten any more responses from his campaign, so I'm told."
Earlier this month, McCain proposed that he and Obama participate in 10 joint-town hall meetings on weekly basis between June 12 and the party conventions. Obama's camp rejected the deal and offered to participate in two Lincoln-Douglas-style debates and one town hall on July 4th. McCain said the Democrat's counter-offer was not "serious."