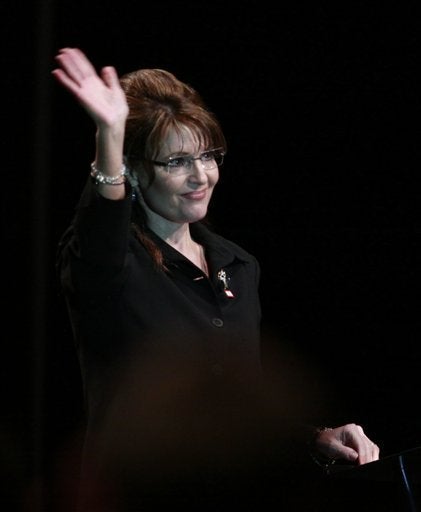 The lawyer responsible for vetting Sarah Palin as vice president insisted on Friday that the Alaska Governor was more than qualified for the job.
"She would have been a great vice president," said Washington power lawyer A.B. Culvahouse at an event at the National Press Club. "And as I told John [McCain] she would have been ready on January 20. I don't think many people would.... She has lots of presence. She filled up a room. Me and two of my most cynical partners interviewed her and we came away impressed."
Speaking about his expansive career in Republican politics, Culvahouse made the case that the vetting process for McCain's running mate was thorough and complete. The second most talked about V.P. option -- Connecticut Independent-Democrat Joe Lieberman -- was not a practical choice due to legal hurdles. "Five states have sore loser statutes, he said, "[making] it very difficult for someone who's not a member of the Republican Party to become the vice presidential nominee if they only switch parties to become a Republican shortly before the convention."
The most anticipated comments, however, concerned Palin, whose out-of-nowhere selection and subsequent rocky roll out led to reports that the McCain campaign hadn't been adequately prepped. Pushing back on that notion, Culvahouse went through the process nearly issue by issue.
He insisted that on her submitted written questionnaire, Palin told the vetting staff about "everything except the pregnancy" of her daughter. That revelation came in a conversation soon after the end of her interview. "So we knew everything going in," said Culvahouse.
He stated that some McCain staffers seemed caught off-guard for the pregnancy story because medical confidentiality had prohibited them from being briefed. "Some of the members of the campaign staff who thought they should have known about these issues, who were finding themselves answering questions about these issues, had not been briefed. So that left the impression that those had been withheld," he said.
As for the infamous Katie Couric interview, in which it appeared that Palin could not name a Supreme Court case other than Roe v. Wade, Culvahouse insisted that the impression was not even close to reality. "I don't know if it is edited or not, but the suggestion was she didn't," he said. "She clearly did. My law firm represents Exxon in the Valdez matters and until she became governor, Governor Palin was a plaintiff in that case."
Culvahouse and his team asked Palin three "lead-in" questions to determine her capacity to serve as McCain's V.P.
* Why do you want to be vice president?
* Are you prepared to use Nuclear weapons in the defense of the homeland?
* Osama bin Laden is identified in the FATA, the CIA is ready to take a shot, but if they take a shot there will be multiple civilian causalities, will you take the shot?
Her grade: "She knocked those three questions out of the park," said Culvahouse.
The one mistake made in the process, he concluded, came at the end, when he told McCain that picking Palin was "high-risk, high-reward."
His response, said Culvahouse: "You shouldn't have told me that. I've been a risk taker all my life."
Popular in the Community