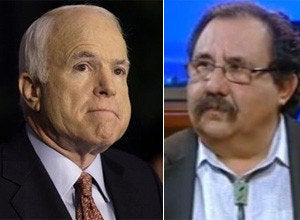 John McCain, lacking a viable challenger in his Arizona Senate race, has picked a proxy and is waging war against a longtime thorn in his side, Rep. Raul Grijalva, by cutting an ad for and sharing office space with Grijalva's challenger, Ruth McClung.
While polls have shown Grijalva's race to be a tight one despite the overwhelming Democratic registration advantage in the district, Washington operatives have expressed confidence in his ability to prevail largely because McClung isn't seen as having the type of ground operation needed to get out the vote. But McCain certainly does have one. And even if McCain doesn't fully hand over his entire apparatus to McClung, as long as he vigorously turns out Republicans in the district, they can reliably be presumed to be McClung supporters.
Without McCain, McClung, a 28-year-old newcomer to politics, has essentially no campaign operation. On Monday, HuffPost called the main headquarters number listed on McClung's website and reached volunteer activist Beth Schmugge at her home. Schmugge explained that the campaign had no office space until recently and that she was volunteering to answer the phone when someone called. Reports the campaign filed with the Federal Election Commission confirm that no money has been spent on rent and otherwise details very meager spending. McClung's mother, Gini Crawford, is acting as her campaign manager and the campaign has reimbursed her for modest campaign expenses.
McCain and Grijalva couldn't be any more different in background, personality or politics. Grijalva is an easy-going progressive, the son of Mexican migrant workers. McCain has a fierce temper, conservative politics and is the privileged son of a Navy admiral. McCain is a champion of national and state business interests and a backer of the state's draconian immigration law; Grijalva famously endorsed a boycott of the state to protest the act.
Obama's appointment of Arizona Gov. Janet Napolitano to run the Homeland Security Department took the Democrat most able to beat McCain out of play, leaving the field to Rodney Glassman. McCain has repeatedly attacked Glassman, a former Grijalva aide, for his connection to the Arizona congressman. McCain's Senate campaign funded an ad against Grijalva that is running around the clock in the seventh district, an unusual move that drew complaints from Democrats that McCain was violating his own campaign finance reform rules.
And McCain is now sharing office space with Grijalva's opponent, subletting a chunk of his Tucson headquarters to the cash-strapped campaign of novice candidate Ruth McClung.
A McClung spokesman says that the campaign is reimbursing McCain for the office space in order to stay within campaign finance rules, but Grijalva's backers wonder how much of McCain's ground network is now at the disposal of McClung.
McCain may have general personal and ideological differences with Grijalva, but he also has a quite specific local objection to the congressman. McCain backers have long sought to mine for uranium near the Grand Canyon. Grijalva has stood in the way. He is on the short list to be Interior Secretary and is chair of the House Subcommittee on National Parks, Forests, and Public Lands. His opposition to the mining included holding a field hearing in Arizona to explore its environmental consequences. Grijalva successfully lobbied the White House to temporarily block the mining. At Grijalva's field hearing, Utah Rep. Rob Bishop, the ranking Republican on the subcommittee, called the Obama move "tyranny."
Shortly after Grijalva's hearing, McCain and Arizona Sen. Jon Kyl, the number two Republican in the Senate, sent a letter to Grijalva defending the right to mine in the area. Sam Stone, a McClung spokesman, said that the campaigns are not working in coordination. "We're not working together," he said. "We're simply sharing space that was available on very short notice. Obviously we didn't have a lot of resources or funds until really within the last month." Stone said the campaign had no office until roughly four weeks ago and is paying half the rent.
He said that McClung has been working hard on her ground game since early 2009 and currently has a district coordinator in all six counties. "She built this and won the primary entirely on the ground," he said, adding that of the $70,000 she had raised, she spent $56,000 of that building a ground team. She has roughly 400 active volunteers, said Stone, and another 1,500 casual volunteers.
Lately, money has begun to flow in to McClung. A week and a half ago, an online money bomb brought in more than $100,000 in one day; the campaign is running another such event Monday that has already raised more than $40,000.
The McClung campaign, in its first money bomb, used a doctored image of Grijalva that plays on racial stereotypes, depicting him with a long mustache. (Stone said that no offense is meant by the image and that it was a play on the exaggerated mustache Grijalva uses in his own campaign literature.)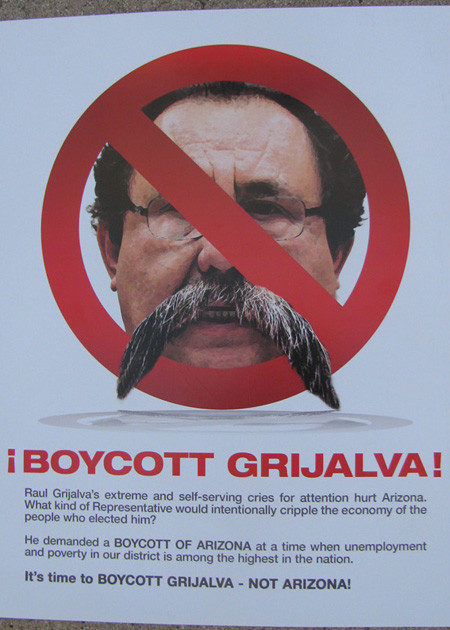 McCain has also weighed in against other House Democrats in the state, but his effort against Grijalva eclipses those campaigns. The ad McCain cut against Grijalva is paid for by his Senate campaign but tells voters to "please elect Ruth McClung. It includes the discordant, if obligatory, finish: "I'm John McCain and I approved this message." McCain's financial disclosures indicate he spent $80,000 airing the ad and more than $11,872 to produce it. McCain has joined McClung at fundraising and campaign events.
McCain's spending rubs up against -- and may cross -- the legal line drawn by the McCain-Feingold campaign finance reform law. The FEC's general counsel has said that the law clearly prohibits a candidate's committee from giving a second candidate assistance beyond $1,000. Otherwise, contribution limits are meaningless, as a donor could give the maximum to a number of different candidates and instruct them all to spend the money to support a single candidate. The issue, the counsel has written, "is not simply whether a person or committee in general can make independent expenditures but whether an authorized committee can make independent expenditures or contributions in excess of $1,000 and still retain its status as an authorized committee. In our view, Congress has clearly precluded authorized committees from 'supporting' other candidates in such a matter."
The DCCC is still calling for the matter to be investigated. "By [House candidate] Jesse Kelly and Ruth McClung's own accounts, they have met with Senator John McCain, they all shared the stage at a unity rally in August, and they are all coordinating with the Arizona Republican party. If that were not proof enough McCain is illegally coordinating with Kelly and McClung, Senator McCain is the special guest at a fundraiser for Jesse Kelly on [Oct. 21]. Just because Senator McCain wrote the McCain-Feingold law doesn't mean he gets to break it for Jesse Kelly and Ruth McClung," the DCCC's Jen Crider said.
Grijalva has kicked his campaign into high gear after recognizing late that his race was anything but safe. His fundraising had been anemic; colleagues and the Democratic Congressional Campaign Committee have since begun spending money to salvage the seat. MoveOn.org is rallying on behalf of Grijalva and McClung's Stone said he's seen about $600,000 in spending on behalf of the incumbent from outside groups.
Stone said that about $400,000 in outside spending has benefited McClung, but the Grijalva camp puts that number closer to $700,000. Regardless, what was once a sleepy race has quickly gotten intense and expensive. Stone said that all the outside money has driven up ad rates.
Grijalva should not be in a tight race. The district holds 142,000 Democrats and only 75,000 Republicans. More than half of the district is Latino and a third white.
A McCain spokesman didn't return a call. Joanna Burgos, a spokeswoman for the National Republican Campaign Committee, said that the national party only realized that Grijalva was vulnerable in the "last few weeks." Regardless of the outcome, she said, forcing Democrats to spend money on the race is a victory.
"We fully believe that he has dug this hole for himself by declaring a complete boycott on the businesses that keep this district going," she said.
Calling all HuffPost superfans!
Sign up for membership to become a founding member and help shape HuffPost's next chapter