When it comes to President Donald Trump's claim that he was wiretapped, Sen. John McCain (R-Ariz.) wants the evidence to speak for itself.
The chairman of the Senate Armed Services Committee called on Trump on Sunday to either prove that his predecessor Barack Obama illegally tapped his phones or retract the allegation. His request comes roughly one week after Trump made the unprecedented claim on Twitter without offering any evidence backing it up.
"The president has one of two choices, either retract or provide the information that the American people deserve," McCain told CNN's Jake Tapper, host of "State of the Union." "I have no reason to believe that the charge is true, but I also believe that the president of the United States could clear this up in a minute."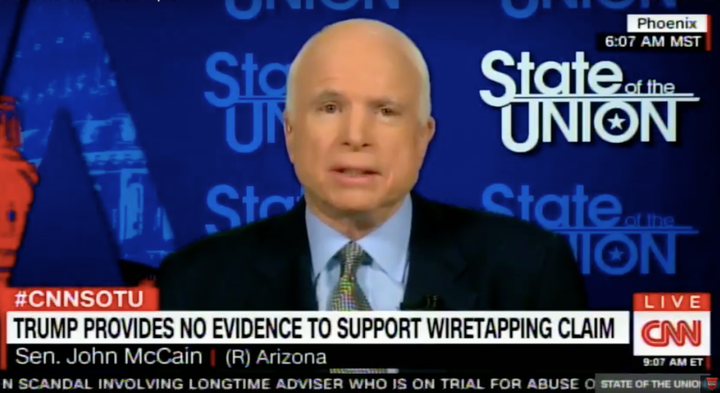 Instead, it's just created another talking point — one that wasn't missed by McCain.
"There's a lot of things about our relations with Russia that trouble me a lot," he said when asked about Trump's former national security adviser, Michael Flynn, previously working as a foreign agent for Turkey.
"There's a lot of aspects of this whole relationship with Russia and Vladimir Putin that requires future scrutiny and so far I don't think that the American people have gotten all of the answers and in fact I think there's a lot more shoes to drop from this centipede," he said.
Though Trump has yet to produce evidence or again address the claim, two senior senators have since asked the FBI and Justice Department to produce whatever information they have on the matter.
In a letter addressed to Comey and Acting Deputy Attorney General Dana Boente, Sens. Lindsey Graham (R-S.C.) and Sheldon Whitehouse (D-R.I.) on Wednesday demanded to know whether any warrants were obtained or requested by Obama. Graham told CNN that subpoenas will be issued if the federal agencies do no cooperate.
Popular in the Community