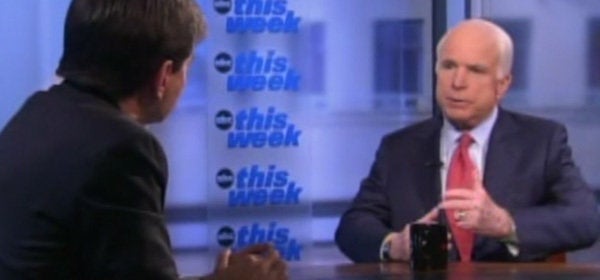 John McCain sideswiped the Republican National Committee on Sunday for the intense focus it has placed on Barack Obama's relationship (however thin) to Gov. Rod Blagojevich.
Saying he was confident that information would be made public regarding the president-elect's contacts with the embattled Illinois governor -- who is accused of putting up Obama's vacant Senate seat to the highest bidder -- McCain urged his Republican colleagues to keep their political priorities in order.
"I think that the Obama campaign should and will give all information necessary," said the Arizona Republican. "You know, in all due respect to the Republican National Committee and anybody -- right now, I think we should try to be working constructively together, not only on an issue such as this, but on the economy stimulus package, reforms that are necessary. And so, I don't know all the details of the relationship between President-elect Obama's campaign or his people and the governor of Illinois, but I have some confidence that all the information will come out. It always does, it seems to me."
McCain's remarks, delivered during an interview on This Week with George Stephanopoulos, come amidst a blitz of statements, press releases and web videos from the Republican Party on the Blaojevich subject.
On Sunday alone, the Illinois GOP launched a web site that would reportedly link 12 different state Democrats with the scandal-plagued governor. The RNC, meanwhile, released a web video titled, "Questions Remain," highlighting Obama's "evolving explanations" regarding the Blagojevich affair. Last week, RNC Chairman Mike Duncan said Obama was undermining his pledges for transparency and the "moderate-type" campaign that he ran on, by not being forthcoming about his contacts with the Illinois Governor.
For all of this, the complaint issued in the Blagojevich case indicates that Obama had no direct ties to the governor's pay-for-play scheme. The president-elect has said as much. Moreover, Blagojevich is heard in wiretaps repeatedly cursing Obama and complaining that the transition team was offering only "appreciation."
McCain, who has almost never been popular within deeply partisan Republican circles, seemed to acknowledge the notion that this is, at its heart, a tale of a corrupt Illinois pol, not some massive entanglement involving Obama that the RNC is insinuating.
Popular in the Community