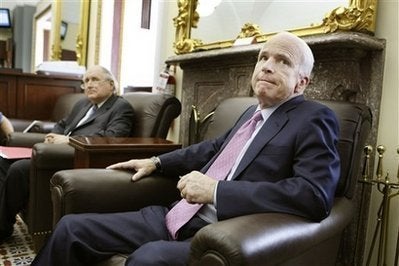 Having attempted to put together a voting coalition broad enough to get elected president, Sen. John McCain (R-A.Z.) knows better than any other lawmaker the shortcomings and vulnerabilities of the Republican Party.
So his declaration on Sunday morning that the GOP faced a dire situation unless it did more to bring Hispanic voters into its ranks is likely to be treated as a blaring warning siren, not mere political analysis.
"On the issue of the Hispanic voter, we have to do a lot more. We Republicans have to recruit and elect Hispanics to office," McCain told CNN's State of Union. "And I don't mean just because they're Hispanics, but they represent a big part of the growing population in America. And we have a lot of work to do there. And I am of the belief that unless we reverse the trend of Hispanic voter registration, we have a very, very deep hole that we've got to come out of."
While he was one of only a handful of Republicans willing to tackle immigration reform in 2007, McCain faced a massive deficit with Hispanic voters in the 2008 election. His aides have said that, were he not the home state senator, he would have lost Arizona to Barack Obama, in large part because Hispanics had left the Republican Party in droves.
Certainly, Democrats are aware of the massive electoral ramifications that could come from this development. In an interview with the Huffington Post last week, DNC Chair Tim Kaine suggested that Republican opposition to Supreme Court nominee Sonia Sotomayor and comprehensive health care reform could end up costing the party dearly with Hispanic voters down the road.
Popular in the Community