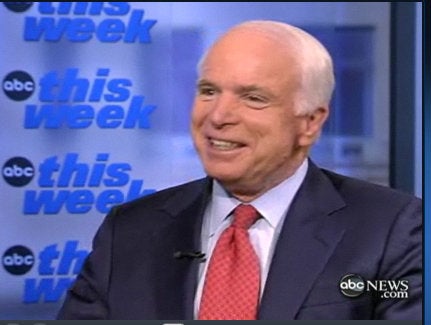 In an interview with ABC News' George Stephanopolous Sunday, Sen. John McCain would not say whether he'd support Alaska Gov. Sarah Palin if she runs for president.
"Listen I have the greatest appreciation for Gov. Palin and her family and it was a great joy to know them," McCain said. "She invigorated our campaign and she was just down in Georgia and she invigorated their campaign."
"But I can't say something like that," McCain said, "We've got some great other young governors."
McCain said he thinks the Republican governors are going to assume a leadership role in the future of the Republican Party.
"Have no doubt of my admiration and respect for her and her viability," McCain said, "but at this stage my corpse is still warm!"
REAL LIFE. REAL NEWS. REAL VOICES.
Help us tell more of the stories that matter from voices that too often remain unheard.