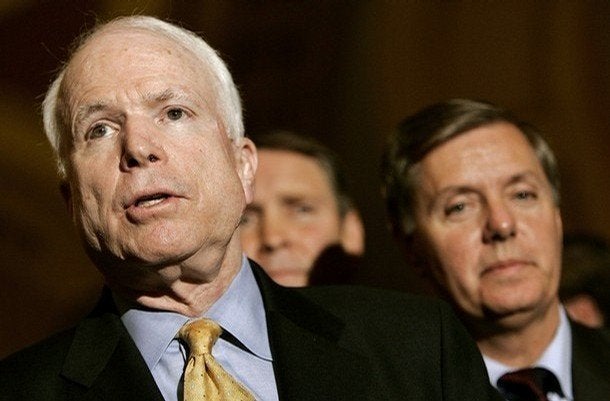 Either Sen. John McCain didn't hear Joe Klein tell him to "be quiet" or he doesn't care, because the former presidential candidate went right back at his ex-rival Tuesday afternoon for President Obama's decision not to insert himself into the Iranian crisis.
McCain wouldn't say which side of the struggle he thought Obama was on.
"Between Ahmadinejad and the reformers, do you think there's any doubt what side President Obama is on?" McCain (R-Ariz.) was asked by the Huffington Post. "What would be the advantage...?"
"I know what side I'm on," McCain cut in. "I'm on the side of the people. I'm not on Ahmadinejad's side or Mousavi. I'm on the side of the Iranian people and I'm on the right side of history. And I'm not going to walk on the other side of the street while people are being killed and beaten in the streets of Iran."
McCain said Obama's reaction wasn't equal to the situation. "We can't sit by and watch a film clip on television of a young woman bleeding to death and say that we're worried about the Iranian reaction or our ability to negotiate with them. We have to stand up for those people," he said.
Time magazine's Klein had taken McCain to task for his position on Monday night. "Be quiet," said Klein. "You don't need to do this. You know? You know what you're doing is a self-indulgent at this point. Sen. McCain, if he's going to talk about this, should also talk about the fact that the United States supported Saddam Hussein in the Iran/Iraq war for eight years. Every one of those protesters out in the streets, every last one of them believes the United States supplied Saddam Hussein with the poison gas that has debilitated tens of thousands of Iranian men."