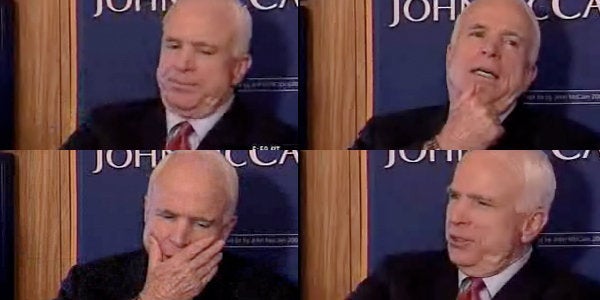 How damaging is this video, now spreading around the web, showing John McCain squirming, stumbling, and then claiming ignorance about his position on providing women with birth control?
Apparently, very damaging. A Democratic Party strategist familiar with internal polling said McCain's two votes against requiring insurance companies to cover prescription birth control have been polled in battleground states and had tremendous resonance with women, including independents and Republicans.
(Polling conducted last month for NARAL Pro-Choice America showed similar data: 79 percent of pro-choice independent women and 61 percent of pro-choice Republican women said that McCain's votes against birth control access raised "serious doubts" in their minds about McCain.)
More troubling for the presumptive GOP nominee is that the video of his awkward exchange aboard the Straight Talk Express is getting wider attention from major media outlets (which apparently can't resist the Viagra angle).
Exhibit A: this piece exploring McCain's position that ran today on CNN:
Update: Here's more coverage from tonight's Countdown:
Popular in the Community