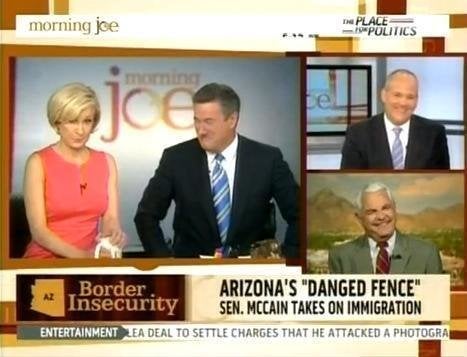 So, Senator John McCain went down to Arizona, like he was in Public Enemy or something, to wander along the border with some sheriff from some non-border adjacent county to talk about completing "the danged fence" that would finally keep out all the Mexicans so that his home state could just go back to quietly seething with racial resentment instead of making that racial resentment a central feature of all public policy. What did he get in return? Everyone on the "Morning Joe" show laughing at him!
Here's a clip of Joe Scarborough and Representative John Shadegg (R-Ariz.) leading a chorus of chortles at McCain's ad.
"It seems like some politicians have changed ground on this issue," Shadegg quipped, as politely as he could.
Having his fellow Republicans mock his ad may not look helpful, but let's cast our mind back to the 2008 campaign and remember that the only thing the McCain camp was much good at was winning news cycles. Their winning streak continues!
Meanwhile, McCain's opponent, J.D. Hayworth, is similarly a-giggle over McCain's new support for "danged fences." In a campaign email, Hayworth runs down a litany of criticism:
Here's what the press is saying:

* Glenn Beck warned his listeners the ad might make them vomit.
* ABC News reminded its audience that in a 2007 Vanity Fair article, McCain said, "I think the fence is least effective. But I'll build (expletive deleted) fence if they want it."
* Big Government called it the "Worst 'Danged' Political Ad in History! Congratulations, John McCain."
* Politico wrote of McCain: "His shift across the political landscape on this issue remains stunning to his former allies in the immigration world."
* MSNBC mocked McCain saying, "John McCain, who once led the charge for comprehensive immigration reform, is up with an immigration ad a hardliner would be proud of."
* TRUE/SLANT wrote the ad is "perhaps the worse, most ineffectual, pandering campaign ad ever."
* The Washington Post's web headline over The Fix column reads "Has John McCain Started To Panic?"
* Drudge Report's headline said "ON DEFENSE: MCCAIN FLIP FLOPS ON IMMIGRATION."
* The Arizona Daily Star wrote: "But critics who say he flip-flopped on the issue of the border fence suggest it's almost as if Babeu is saying 'You're one of us... now.' (Even though you weren't before when you were 'pro-amnesty.')"
[Would you like to follow me on Twitter? Because why not? Also, please send tips to tv@huffingtonpost.com -- learn more about our media monitoring project here.]
Popular in the Community