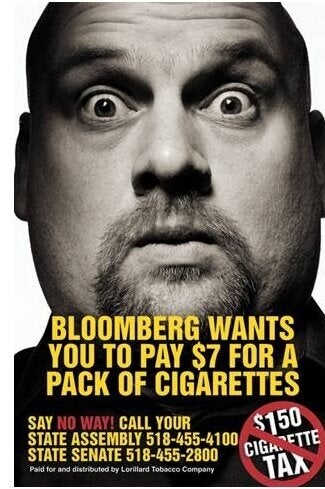 The steady disclosures of past lobbying activity by campaign aides, and the struggle to minimize firings, continue to plague John McCain's presidential campaign -- but the reality is that these problems only get worse the deeper anyone digs. There you'll find an anti-cigarette tax campaign on behalf of Lorillard Tobacco and a full-scale campaign to persuade the US Senate to approve use of Yucca Mountain as a nuclear waste site.
McCain has sprung a trap on himself, demanding exceptionally high ethical standards for public officials, while simultaneously turning his campaign operation into a home for some of Washington's lobbying kingpins -- men and women who specialize in just the influence peddling McCain has repeatedly deplored.
"Too often the special interest lobbyists with the fattest wallets and best access carry the day when issues of public policy are being decided.... [McCain] has fought the 'revolving door' by which lawmakers and other influential officials leave their posts and become lobbyists for the special interests they have aided....As President, John McCain will see to it that the institutions of self-government are respected pillars of democracy, not commodities to be bought, bartered, or abused."
In glaring defiance of such reformist claims, McCain selected former Texas Congressman Thomas G. Loeffler as his national finance co-chairman, despite the fact that Loeffler matches to perfection those officials McCain demonizes, the ones who pass through a revolving door in order to "leave their posts and become lobbyists for the special interests they have aided."
After dumping Loeffler and four other high-dollar Capitol Hill rainmakers, McCain is twisting in the wind as he tries to justify retaining in key campaign posts three other leaders of the special interest community: Campaign Manager Rick Davis, senior strategist Charles (Charlie) Black and top foreign policy adviser Randy Scheunemann. Every one of them would feel more pride than shame in being described as "special interest lobbyists with the fattest wallets and best access who carry the day when issues of public policy are being decided."
Once a politician is forced down the path of ethical purity, however, the genuine difficulty emerges with the realization that few if any of the men and women who help run campaigns have clean hands.
Were McCain to decide to really turn over a new leaf, what would he do, for example, in the case of Mike Hudome, president of MH Media in Bethesda, Md., a firm which has been paid $10.6 million for television ads by the current McCain campaign? Year in, year out, who pays the bread and butter fees that keep food on Hudome's kitchen table? Just take a quick trip on the web to MH Media's web site and you will get a taste of the kind of work MH Media does: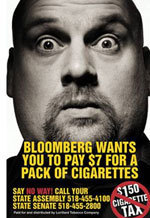 This is an example of an "issue campaign" MH Media proudly undertook in behalf of Lorillard Tobacco Company, aimed at killing a proposed $1.50 tax on each package of cigarettes in New York. The US Chamber of Commerce has also been a MH client. Here is what MH claims on its website to have done for the business association:
"Faced with powerful opposition from a coalition of casinos and environmental groups, the U.S. Chamber of Commerce turned to Mike Hudome at [MH Media] for an issue advocacy campaign to secure support for President Bush's proposal to store the nation's nuclear waste at Yucca Mountain, Nevada. On the other side, were [environmental and tourist] interests.... raising questions about the safety of President Bush's plan. In just a weekend, MPGH produced 12 different radio ads and purchased $1.5 million of media time in 44 markets. The ads presented a clear choice for Senators: Stand up for your constituents and support President Bush's plan to get the waste out of their communities or side with the out-of-state special interests who want the waste to continue piling up in their communities. The ads, which aired during Congress' weeklong 4th of July recess, were pivotal in securing Senate support for President Bush's Yucca Mountain plan. On July 9, 2002, the Senate voted 60-39 to move forward with the proposal."
One of the Senators voting yes on filling Yucca Mountain with radioactive waste was John McCain.
At a more subtle level, the McCain campaign is enmeshed on every front in the network of Washington special interests: for example - and there is nothing illegal about this - the campaign uses Public Opinion Strategies (POS), a polling firm with a stellar ethical reputation, to conduct surveys. But POS is also pulling in hefty fees from an astonishing range of corporations and associations that want something from government - something they are paying to get. Go to the POS web site and check out the client list. Here is a small sampling:
Aetna Inc.; American Hospital Association; American Plastics Council; Associated Builders & Contractors; Bristol-Myers Squibb; Chemical Bank; Food Lion, Inc.; McDonalds; The National Association of REALTORS; The National Football League; NBC; Pfizer Incorporated; Pharmaceutical Research and Manufactures of America; Proctor & Gamble; Software Publishers Association; The Trump Organization; Verizon; Waste Management, Inc.
The more you look at McCain's dilemma, the more he appears to be the victim of his own ethical crusades.
Now, he and his lobbyist-strategists, including Davis, Black and Scheunemann, must figure out some way to get out from under this paralyzing issue and bring to an end the repeated questions raised during every McCain television appearance about the propriety of having lobbyists in charge.
When hit with a major lobbying flap in February, McCain declared, "These people have honorable records, and they're honorable people, and I'm proud to have them as part of my team." He then sought to bring the subject to a close:
"I don't have any more comment about this issue...I'm moving on. I'm talking about the issues and the challenges of America and the big issues that Americans are concerned about. I addressed the issue and addressed every question that was addressed to me."
It didn't work. New controversies emerged, staffers were unceremoniously fired, and McCain has not found a way to get what had been his signature issue - reform - to stop nipping his ankles at every turn.
If McCain junked his entire campaign and tried to live up to his "own" standards, his bid for the Presidency would become a lonely endeavor with very uncertain prospects.
Popular in the Community