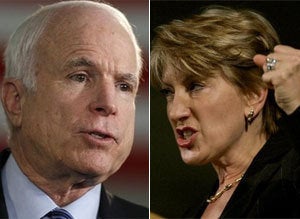 Senator John McCain delivered a policy speech today to address the current housing crisis and, ostensibly, shore up concerns over his admittedly limited grasp of economic policy. Later, his campaign is hosting a conference call on the same matters.
And yet, speaking on behalf of the senator on the call is a figure who couldn't be further removed from the perils of the housing market.
Carly Fiorina, a McCain surrogate and "RNC Victory 2008 Chair," formerly headed Hewlett-Packard. And when she was brought on board the company in 1999, she was given a sweat heart deal to help her with her mortgage.
A February 2005 AP article noted that HP "helped her with her mortgage, relocation expenses and taxes related to relocating, for a total of $1.6 million between 1999 and the end of 2003." According to HP proxy statements, roughly $650,000 went to help with her mortgage during her time with the firm.
Indeed, from 2001-2003, data indicates that HP was paying up to half of Fiorina's mortgage costs.
Adding a little cherry on top, when Fiorina was ultimately dismissed from her duties as chairman and chief executive officer, she received a severance package valued at $21 million.
To be sure, payments like these don't mean that Fiorina can't provide valuable insight into the ailments of the market and subprime mortgage industry. But her personal story does matter, when one considers McCain's pledge to -- in light of criticism over his shortcomings on economic policy -- surround himself with capable advisers.
Popular in the Community