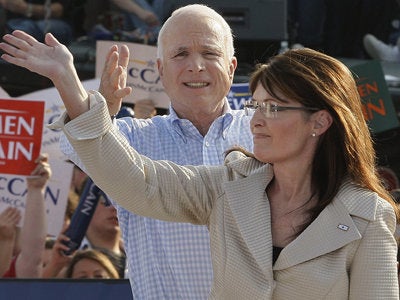 John McCain's choice of Sarah Palin isn't a mistake. It's a disaster. Like a moonstruck teenager, McCain was smitten overnight with Palin. But as the revelations keep pouring out about Palin, McCain is surely starting to realize that he has hitched himself to a volatile partner who threatens to upend his entire campaign.
Already media coverage is focused almost exclusively on the Palin drama rather than on McCain. Palin has the upper hand in the relationship with McCain. Her convention speech on Wednesday will likely upstage McCain's. The GOP hasn't experienced this big a mess since 1952, when Dwight Eisenhower mulled over dumping a young Richard M. Nixon. But were McCain to dump her overboard, the religious right would, in effect, accuse him of jilting her -- of political infidelity. In short, McCain is hostage to Palin, and she will begin to savor it. "To tie a prominent statesman to her train and to lead him about like a tame bear," wrote Henry Adams in Democracy, his nineteenth century Washington novel, "is for a young and vivacious woman a more certain amusement than to tie herself to him and to be dragged about like an Indian squaw."
McCain should have seen this coming, but as the New York Times reports today, his campaign apparently failed to examine Palin's record adequately. The choice of vice president was the first test of McCain's judgment. Barack Obama passed it with flying colors. McCain flunked it. If he can't pick a vice-president, how on earth is he going to run an entire government?
Calling all HuffPost superfans!
Sign up for membership to become a founding member and help shape HuffPost's next chapter