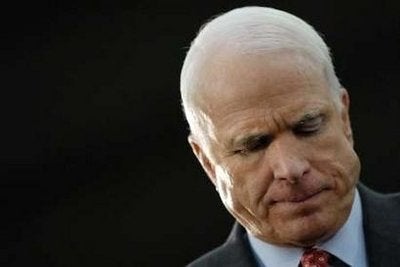 The stop, which is part of the senator's extended biography tour, is a complimentary gesture both to the African American community and to King's legacy. But is also threatens to resurrect an inconsistency McCain has had on one of the more symbolically important civil rights issues: whether or not to create a holiday commemorating Martin Luther King.
In 1983, McCain voted against passing a bill to designate the third Monday of every January as a federal holiday in honor of King. Four years later, then-Arizona Governor Evan Mecham rescinded Martin Luther King Day as a state holiday, saying it had been established through an illegal executive order by his Democratic predecessor.
McCain said he thought Mecham was correct in his decision.
Two years after that, McCain's viewpoint began to change, but only gradually. In 1989, he urged lawmakers to make Martin Luther King Jr. day a state holiday, but said he was "still opposed to another federal holiday."
"I support the (Arizona) Martin Luther King holiday," he added, "because of the enormous proportions this issue has taken on as far as the image of our state and our treatment towards not only blacks but all minorities."
By 2000, McCain had come full circle. In an interview with ABC News during the Republican primary, he said he regretted voting against the 1983 bill. "Yes," he stated, "It was a wrong vote."
Why did he make that decision, he was later asked.
"We didn't like outsiders coming in and telling us what to do, how we would conduct this effort to get the majority of Arizona to recognize Dr. Martin Luther King as a holiday," McCain told ABC. "I worked very hard to achieve that recognition of Dr. King. And I did resent it when people parachuted in from other parts of the country to try and tell us what to do."
To his credit, McCain has been repentant on his earlier MLK Day positions. In 2000, he went to the South Carolina, following his primary loss, and condemned the Confederate flag, something he declined to do during his run for office then. And, on a segment of Hardball taped in February 2000, he described what he deemed a political evolution on the issue of MLK Day.
"I believe that Barry Goldwater [McCain's political hero], to start with, regretted his vote on the 1964 Civil Rights Act," he said. "I think that Barry grew, like all of us grow and evolve. In 1983, when I was brand-new in the Congress, I voted against the recognition of Dr. Martin Luther King. That was a mistake, OK? And later I had the chance to...help fight for...the recognition of Dr. Martin Luther King as a holiday in my state."
Popular in the Community