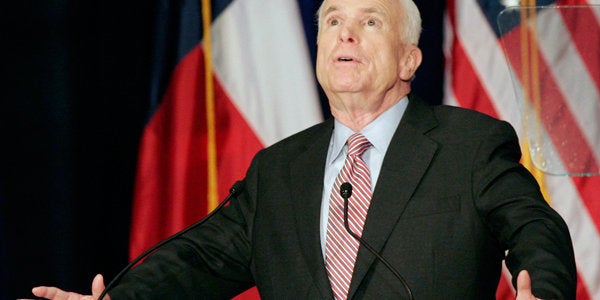 It is hardly a secret that when it comes to offshore drilling, Sen. John McCain was against the idea before he was for it. On Monday, the Arizona Republican told a crowd in Texas that he was abandoning his long-time support for a federal moratorium on drilling along the nation's coastlines in favor of allowing states to decide for themselves.
But how recent a convert is McCain to this position?
In late May, during a campaign town hall, McCain was asked about the prospect of coastal drilling. His answer then was far more nebulous and skeptical of the idea compared to his recent, full-throated endorsement.
On a campaign stop in Greensdale, Wisconsin, the Senator suggested that turning to the nation's coast for energy needs would be something of a waste in time and effort and do little to resolve America's broader energy needs.
"[W]ith those resources, which would take years to develop, you would only postpone or temporarily relieve our dependency on fossil fuels," McCain said when asked about offshore drilling. "We are going to have to go to alternative energy, and the exploitation of existing reserves of oil, natural gas, even coal, and we can develop clean coal technology, are all great things. But we also have to devote our efforts, in my view, to alternative energy sources, which is the ultimate answer to our long-term energy needs, and we need it sooner rather than later."
Those remarks differ widely from the sentiment offered by the Senator yesterday, in which he presented coastal drilling as a move that would "be very helpful in the short term resolving our energy crisis."
"I believe it is time for the federal government to lift these restrictions and to put our own reserves to use," he said on Tuesday, "as a matter of fairness to the American people, and a matter of duty for our government, we must deal with the here and now, and assure affordable fuel for America by increasing domestic production."
In part because of these limited benefits, McCain was far cooler to the idea of ending to federal moratorium on drilling offshore back in May. Responding to an audience question, the presumptive GOP nominee stated his respect for states' rights while adding a healthy dose of concern about forcing states to open up their coasts.
"Can I just say that this young man just pointed out that that he believes in states' rights, and so do I. And the people of Louisiana decided that they wanted to drill off of their coast. And they do. The people of California and the people of Florida, those two states decided that they didn't. What I would like to do, frankly, is to maybe give them a greater source of the revenues to help maybe encourage them to allow some kind of exploration far off of their shores. But if I told the state of California, you've got to have drilling off of your coast, that would frankly be a contradiction of what were just talking about, about -- that's their land and that's off of their coast."
That McCain would, two weeks later, offer a full endorsement of removing federal restrictions on the drilling practice seems hard to attribute to the high price of gas (after all, gas prices were similarly priced in late May), but rather political posturing. A Republican with an environmentalism streak, the Senator has long stood against drilling offshore, arguing that longer-term solutions were needed to end the energy crisis. But the general election has changed that dynamic.
On other issues as well, McCain has found himself back-tracking from his prior advocacy.
In mid-May 2008, for example, the Senator was quoted saying he didn't "like obscene profits being made anywhere," and, as such, would be "glad to look" at a windfall profits tax on oil companies. Yesterday, however, he criticized Barack Obama for wanting "a windfall profits tax on oil to go along with the new taxes he also plans for coal and natural gas."
Update: McCain's position also seems at odds with a study recently completed by the U.S. Energy Information Administration (EIA) which in their Annual Energy Outlook 2007, reported:
"The projections in the OCS access case indicate that access to the Pacific, Atlantic, and eastern Gulf regions would not have a significant impact on domestic crude oil and natural gas production or prices before 2030."
Popular in the Community