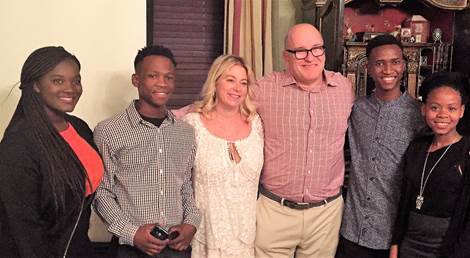 "All young people have dreams for the future, but not all get the opportunities to make them come true," said Lee Tan, Executive Creative Director at McCann Worldgroup Europe. "We hope that the 'Future Leaders' campaign can highlight this reality and help Afrika Tikkun do more great work with South African youths."
Overcoming enormous obstacles, yet leveraging the standard LinkedIn profile and account services, 12 students from Afrika Tikkun communities in South Africa - aged 13 to 19 years - boldly state their claims of future career success. While highlighting current high-profile leaders as role models, the students career interests span a variety of industries and sectors, each student having made a compelling appeal on video.
"Steve Collis, I want your job," Sinesipho Ndonga says speaking confidently and directly into the camera. The 13 year old Mfuleni, Cape Town resident, and "future CEO of AmerisourceBergen," aims to become a leader in the pharmaceutical industry, "just like Steve Collis," she says.
"On behalf of Toni (Collis' wife) and I, and the over 20,000 children and teens whose daily lives are being filled with hope and promise, we thank you very much for your generosity," Collis wrote in an email to attendees of the reception. "As Afrika Tikkun Patron in Memoriam, Nelson Mandela, once said, "a good head and a kind heart are always a formidable combination."
As leader of one of the nation's largest healthcare solutions organizations, Collis believes the AmerisourceBergen Foundation has "a responsibility to inspire and to improve access," as exhibited by Afrika Tikkun, LinkedIn and McCann Worldgroup through the 'Future Leaders' initiative.
"We are excited to leverage 'the world's largest professional network on the Internet, to share the future professional aspirations of our disadvantaged young people in South Africa," said Elizabeth Ngonzi, CEO of Afrika Tikkun USA.
Expressing gratitude for the support of Tan and McCann Worldgroup, Ngonzi envisions the initiative yielding tangible, quantitative and qualitative results that will benefit the future leaders. "We believe that LinkedIn levels the playing-field for talented, yet marginalized people to access opportunities around the globe," Ngonzi said about the initiative's viability.
By connecting LinkedIn members to the 'Future Leaders,' Ngonzi believes the students and their profiles will spark curiosity about the initiative and the students' career interests. "Of the more than 20,000 young people whose lives we transform every year, [Future Leaders] will provide them with an understanding of our impact and how they themselves can contribute to the future success of disadvantaged kids."
With a presence on four continents - Africa, Europe, North America and Australia - Afrika Tikkun has worked to redress the consequences of institutionalized oppression throughout the rainbow nation. The organization's renowned program, Cradle to Career Holistic Development Model, enables close to 600 employees to deliver services addressing holistic educational, medical and economic needs of marginalized youth, in South Africa's townships. From early infancy through adulthood, the model inspires and enables South Africans to become productive citizens and leaders.
"The Afrika Tikkun Center at Uthando is the place that helps me to excel," said future NASA administrator, Surprise Nkhatau. "The classes here draw everyone in and get us all participating," said Nkhatau whose ambition is to become a leader in the aerospace industry, "just like Charles F. Bolden," a retired United States Marine Corps Major General and a former NASA astronaut.
"I want to make something that has never been made before," said Nkhatau who resides in the Hillbrow section of Johannesburg. "That's why I want to be the next Charles Bolden, so I can help kids everywhere."
Shortly after the emergence of democracy in South Africa, more than 20 years ago, then South African President Nelson Mandela visited one of Afrika Tikkun's projects in rural South Africa. According to a 2014 Jewish News entry, Madiba was so impressed with the impact the organization was having in the area that three days later he offered his ongoing commitment to the organization, declaring that he was "so impressed with you chaps that I will become your Patron in Chief."
Based in New York City, Afrika Tikkun USA is a GuideStar Gold-Level international non-governmental organization, building a vibrant community of globally aware supporters within the United States, with reach throughout the North American Continent. Contact Afrika Tikkun for details on how you can support the 'Future Leaders' initiative or get involved.
Related
Popular in the Community