During a lengthy speech shortly after being ousted from his post as speaker of the House on Tuesday, Rep. Kevin McCarthy (R-Calif.) rattled off a short list of legislative wins during his leadership tenure, including the so-called "Lower Energy Costs Act."
But the bill is a dud in limbo between Congress' two chambers, headed nowhere fast. Moreover, the legislation is little more than a giant giveaway to the powerful fossil fuel industry from which many of its GOP sponsors have raked in gobs of campaign cash.
House Republicans passed the bill, H.R. 1, by a 225-204 vote in March. When it passed, Senate Majority Leader Chuck Schumer (D-N.Y.) called the legislation "dead on arrival" in the upper chamber. President Joe Biden vowed to veto it if it reached his desk.
While touting LECA and other House-passed bills on Tuesday, McCarthy was simultaneously defensive.
"I'm proud of what we accomplished, from the Parents Bill of Rights to our energy bill," McCarthy said. "But if they want to hold me liable because the Senate didn't take it up, or the president didn't take it up, that's politics for what I know."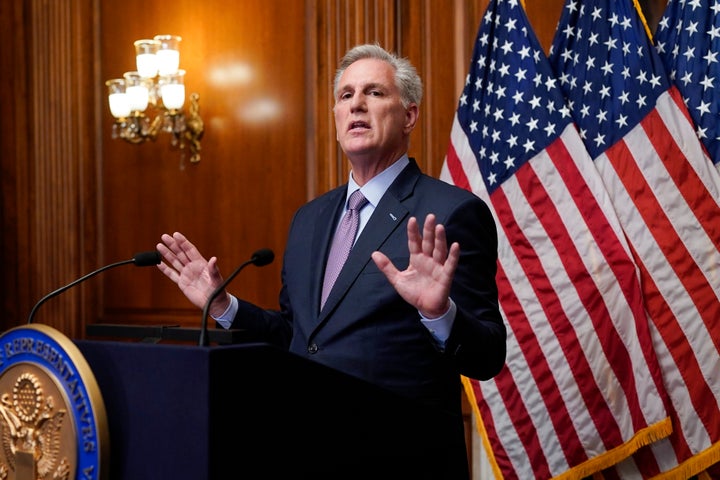 But that omits a crucial detail about where the GOP energy bill now stands. As of Wednesday, the Senate had yet to receive HR 1 from the House clerk. The Senate can't consider a bill that's been passed in the House until it is transmitted from the other chamber. In a thread this week on X, formerly Twitter, longtime Capitol Hill correspondent Jamie Dupree noted that McCarthy "is withholding some House-passed bills from the Senate," including the energy bill.
Yet during a one-hour debate on Rep. Matt Gaetz's motion to remove McCarthy as speaker, at least six allies of McCarthy touted the GOP energy bill, as well as other legislation, to defend the California lawmaker's record.
"We can't help if the Senate won't take up those good, commonsense bills," Rep. Jim Jordan (R-Ohio) said. "They'll have to answer to the American people come Election Day."
Again, the House has not sent the energy bill to the Senate.
Reps. Elise Stefanik (R-N.Y.) and Ashley Hinson (R-Iowa) both noted that the GOP passed legislation to "unleash American energy dominance" ― reiterating a favorite talking point of both the fossil fuel industry and the Trump administration. Rep. Stephanie Bice (R-Okla.) said the bill would "lower the cost of gasoline and restore American energy independence."
In touting the GOP bill, several Republicans took the opportunity to slam the energy policies of the Biden administration.
"Joe Biden has done everything to squash American energy," Hinson declared.
An irate Rep. Garret Graves (R-La.) said that under McCarthy's leadership, Republicans "passed legislation to unleash America's energy resources, pushing back this administration's brainless policies on energy," as well as to "streamline regulations, permitting, environmental laws for the first time in 40 years."
Gaetz, a Florida Republican, swung back at the majority of those who came to McCarthy's defense.
"The problem with my friend from Ohio's argument is that many of the bills he referenced as having passed are not law," Gaetz said, referring to Jordan.
"You said you streamlined regulations," Gaetz told Graves. "What the gentleman from Louisiana doesn't tell you is that all of the regulatory reform he was just bragging about is waivable by the stroke of a pen of someone in the Biden White House. Do you really think you got anything for that? It's a total joke."
Since the moment Biden took office, Republicans in Washington have waged a misinformation campaign accusing the Biden administration of being "at war with fossil fuels" and destroying Trump-era "energy independence."
In reality, the industry is thriving, both in terms of production and profits.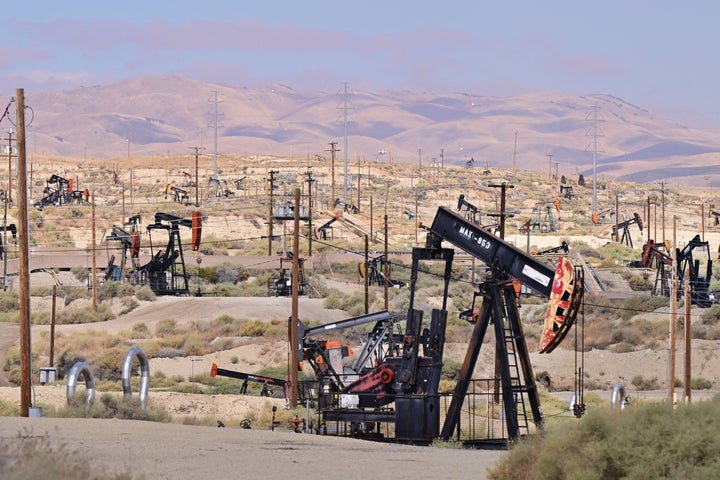 U.S. crude oil production climbed to a near-record high average of 12.99 million barrels per day last month, and output is forecast to reach a new record of 13.1 million barrels per day next year, according to the U.S. Energy Information Administration. Natural gas production and exports are also booming. And the Biden administration has approved more permits to drill on federal lands than former President Donald Trump had approved at this point in his presidency.
The purported death of so-called Trump-era "energy independence" is likewise nonsense. If Republicans are talking about simply producing more energy than we consume, the U.S. remains energy independent today, as Robert Rapier, an energy industry engineer and author, has pointed out. If they're talking about a nation free of any imported petroleum products, the U.S. never achieved that under Trump.
The U.S. has been the world's largest producer of oil and gas since 2018, and became a net exporter of oil in 2020.
The stalled GOP bill is an extension of the GOP's relentless efforts to paint Biden as an "anti-energy" radical. Among other things, the legislation would mandate increased oil and gas leasing on federal lands and waters; lower the royalty rates that oil and gas companies pay to drill on public lands; limit the scope of environmental reviews for permitting, and set deadlines for their completion; and repeal the $27 billion Greenhouse Gas Reduction Fund, a key portion of Biden's signature climate law that provides grants to jump-start the deployment of clean energy infrastructure.
In a statement announcing Biden's intent to veto the bill, the White House slammed the measure as "a thinly veiled license to pollute."
"It would raise costs for American families by repealing household energy rebates and rolling back historic investments to increase access to cost-lowering clean energy technologies," the White House statement reads. "Instead of protecting American consumers, it would pad oil and gas company profits ― already at record levels ― and undercut our public health and environment."
Support HuffPost
The Stakes Have Never Been Higher
Popular in the Community