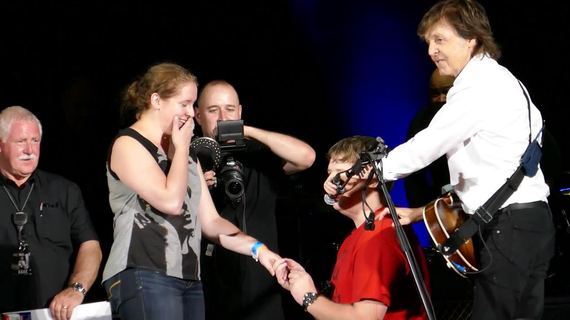 One Audubon, New Jersey couple will never forget the Paul McCartney concert at Philadelphia's Citizens Bank Park on July 12. Melissa Gray, an architecture student at Drexel University, and Dylan Berwick, a NJ Transit rail traffic controller, exchanged their original tickets for even better seats. They then made signs saying, "He Said He'll Marry Me If He Meets You Paul Can He Propose" and "We Followed You for Five Shows Can I Propose" that they waved to attract the attention of the former Beatle. Naturally, the thrice married McCartney invited them on stage so Berwick could propose. Always a romantic, McCartney advised the young man "to get on one knee boy" and then hugged the couple after the proposal. The now engaged Gray called it "magical" and vowed "It's something we will remember for the rest of our lives."
Even without a wedding proposal, the audience that included Portlandia's Fred Arminsen will find it hard to forget this concert. The 74 year old McCartney, whose voice occasionally got hoarse during the night, still knows how to entertain a crowd. He bounded on stage in a blue Nehru jacket, similar to the ones which the Beatles wore in their heyday, to a vigorous "A Hard Day's Night". He promised, "Good evening, Philadelphia. It's good to be back. We are going to have a party in this place tonight- some old songs, some new songs, some in between songs. We are going to have some fun."
Unfortunately, the jacket seemed to act as a strait jacket to Sir Paul. It was only after he took it off that he really started jamming. McCartney played 38 songs from the four musical periods of his life -pre- Beatles ("In Spite of All the Danger" written by Harrison and McCartney), 23 Beatles songs, Wings, which was the band with then wife Linda McCartney, and current solo career. The performances of "Live and Let Die," which included elaborate staging with fireworks, and "Temporary Secretary" left Wings fans breathless with appreciation.
Of his newer work, the piano ballad to his new wife, Nancy Shevell, "My Valentine" was rich and full throated. His ode to his late wife Linda, "Maybe I am amazed" is always a crowd pleaser. After he performed it, the woman sitting next to me said, "Nancy, got cheated. "Maybe I am Amazed" is so much better."
Except for the Yamaha piano being too far back on the stage, the staging of the One on One tour was superb. To perform solos, such as the haunting "Blackbird," he soared above the stage on a platform. He said in his introduction to the song, "Way back in the sixties, there were a lot of troubles going on particularly in the Southern states in America over civil rights. We would hear about this on the news. I wanted to try and write a song if it ever got back to the people in places like Arkansas and Alabama, it would give them a little bit of hope for what they were going through." In case you are wondering if you are playing "Blackbird" correctly on the guitar, Sir Paul says "you all got it wrong, "
On stage, McCartney sometimes can't quite shrug off the ghosts of Beatles and wives past. He wrote the emotional "Here Today" in 1982 as a tribute to the late John Lennon. Before singing it, he reminded the audience, as he often does in his live shows, that life is sometimes too short. "Sometimes, you want to say something nice to someone, but you think I will put it off and tell him in a few days, maybe next week," said Paul. "Someday, it could be too late. I wrote this song in the form of a conversation that we never got to have."
The Beatles burst onto the international scene at a time when our collective psyche still thought anything was possible. For a brief millisecond when everyone in the sold out arena was singing "Hey Jude," it seemed those glittering times had returned. Is Paul perfect? No, but to quote another rock and roller, Stephen Stills, "Love The One You Are With." The audience on Tuesday night did just that.
Calling all HuffPost superfans!
Sign up for membership to become a founding member and help shape HuffPost's next chapter