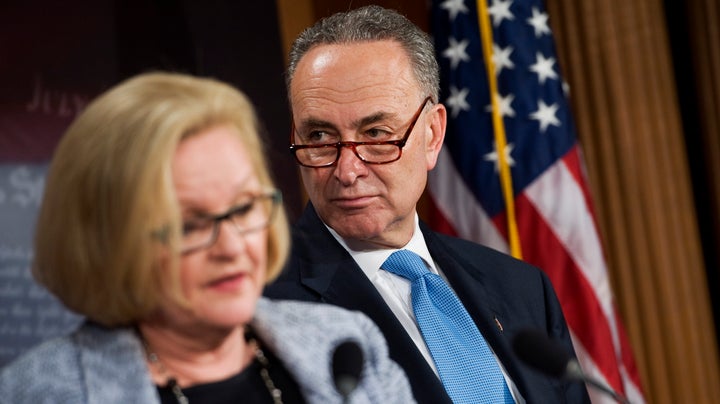 A decade ago, Missouri Sen. Claire McCaskill addressed the Democratic National Convention in Denver and declared, "What unites us as Americans is a belief in a common dream ― that in America, anyone can accomplish anything."
This week, she issued a clarification: Anyone does not include people who were born in other countries.
"Stop them at the border," McCaskill said, referring to a so-called "caravan" of migrants making its way to the United States from Central America. "I ― 100 ― percent back him up on that," arguing that "turning them back" was necessary "because we are not equipped to handle that many asylum claims."
"I do not want our borders overrun. And I support the president's efforts to make sure they're not," McCaskill said, urging Trump to use "every tool he has at his disposal."
"If vulnerable Democrats decide the best way to deal with Trump's increasingly vicious rhetoric is to adopt some of it themselves, the focus of legitimate public debate shifts ever-Trumpward."
Everybody in Democratic Party officialdom surely knows this is disgraceful, which may be why they refuse to answer questions about it. HuffPost reached out to Senate Majority Leader Chuck Schumer (D-N.Y.), Democratic National Committee Chairman Tom Perez and the Democratic Senatorial Campaign Committee. None would comment on McCaskill's recent rhetoric. A spokeswoman for McCaskill clarified that she does not believe the president has the authority to end birthright citizenship through executive order, saying she still supports legal status for Dreamers, and wants to focus on "commonsense, bipartisan ideas."
But whatever the specifics of her policy agenda, there's no question that McCaskill is trying to yoke herself to Trump on immigration in the public imagination right before the midterm elections. In doing so, she's lending the legitimacy of a Democratic Senator to an agenda of undisguised hate. The fact that Schumer and other party leaders can't bring themselves to utter a word of criticism for this performance is nearly as disgraceful as the performance itself.
Nor is McCaskill the only Democrat hopping on Trump's immigrant-bashing bandwagon. Sen. Joe Donnelly (D-Ind.) has been touting his support for a border wall in campaign stops across Indiana. In a Wednesday debate, Donnelly suggested he was open to revoking birthright citizenship through legislation.
All of this is dangerous. If vulnerable Democrats decide the best way to deal with Trump's increasingly vicious rhetoric is to adopt some of it themselves, the focus of legitimate public debate shifts ever-Trumpward. The government is already sending thousands of troops to the border in a militarized stunt. Nobody wants to think about what escalation looks like.
This spring, McCaskill and Donnelly were among a dozen Democrats to support a bank deregulation bill, siding with Trump over the objections of organized labor, consumer advocacy groups and civil rights organizations. In her Fox interview, McCaskill touted her support for the bill to distinguish herself from more liberal colleagues. "Elizabeth Warren sure went after me when I advocated tooling back some of the regulations for small banks and credit unions."
McCaskill did not emphasize other aspects of that bill, which rolled back regulations on foreign megabanks including Deutsche Bank, Credit Suisse and Barclays, and helped smaller banks hide racial discrimination in the mortgage market. For an older generation of Democratic strategists, this type of corporate favoritism is considered an unfortunate but necessary price of politics. Selling out to big business helps lawmakers raise money to run for re-election and frees them up to defend the real priorities.
But what exactly are the real priorities for Democrats like Donnelly and McCaskill? What's the point of raising all that money from the banking industry if you're going to spend it feeding anti-immigrant paranoia?
Both McCaskill and Donnelly are locked in very close re-election contests. If Democrats have a good night on Tuesday, both could survive difficult challenges. If not, both could end up in a new phase of their careers. And it's hard to predict how their recent immigrant-bashing will play. Trump won both Indiana and Missouri by a wide margin, but Obama won Indiana in 2008. Maybe emulating Trump on immigration will help Democrats with some white voters. Maybe it will backfire and reduce turnout among voters of color.
It's hard to predict. It's too bad they didn't try doing the right thing.
Popular in the Community