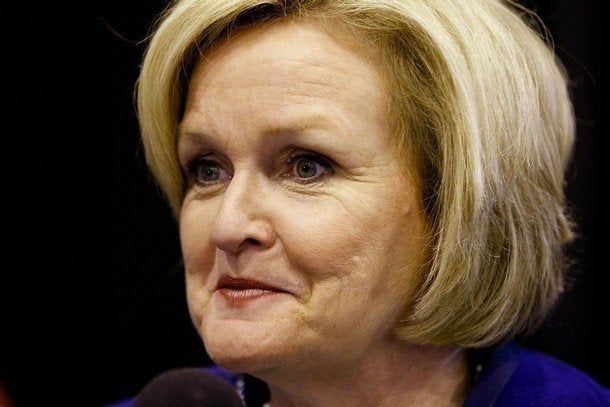 Sen. Claire McCaskill, a pro-choice Democrat from Missouri, said on Monday that she didn't think a provision greatly restricting the ability of woman to access or pay for abortions would be enough to kill a Senate health care bill
Appearing on MSNBC's "Morning Joe", McCaskill was asked whether an amendment added by Rep. Bart Stupak (D-Mich.) to the House's legislation would be too bitter a pill to pass the Senate.
"I am not sure that it is," replied the Missouri Democrat. "Obviously, I have been a pro-choice candidate for my entire political career, and obviously there is controversy always surrounding this issue. But we are talking about whether or not people that get public money can buy an insurance policy that has a coverage for abortion. And that is not the majority of America. The majority of America is not going to be getting subsidies from the government...."
"And so, I am not sure that this is going to be enough to kill the bill," McCaskill added. "And frankly, once again, this is another example of having to govern with moderates. We can't just turn our back on the fact that the reason we are in majority, is because states like Indiana, and Arkansas, and Louisiana, and Missouri, and North Carolina, and Virginia sent Democrats to the Senate."
One of just 13 female Democrats in the Senate, McCaskill's willingness to support a Senate version of the Stupak amendment could go a long way to determining whether it is added to the final product. Already on Monday there is ample indication that it will be considered. Leadership aides, for one, are not tamping down reports that a handful of conservative Democrats are preparing to introduce legislation that would mirror Stupak's. As one noted, the two committees that produced health care legislation each considered amendments that either explicitly or practically achieved what Stupak's did. Finance had the Hatch Amendment that required women to buy supplemental abortion coverage while HELP had multiple amendments.
The language seems likely to be considered once again. As The New York Time's reported: "some Senate Democrats, including Bob Casey of Pennsylvania and Ben Nelson of Nebraska, are pushing to incorporate the same restrictions in their own bill. Senior Senate Democratic aides said the outcome was too close to call."
If, indeed, the Stupak language makes it into the Senate bill, it would be a major blow to pro-choice advocates. It would also seemingly ensure that the restrictions on abortion access would survive conference committee with the House and end up in the final piece of legislation. If that is the case it sets up a major showdown, once again, in the people's chamber. Rep. Diana DeGette (D-Colo.), for one, has insisted she and 40 additional colleagues will oppose any final bill that includes the Stupak amendment.
"There's going to be a firestorm here," DeGette told The Washington Post. "Women are going to realize that a Democratic-controlled House has passed legislation that would prohibit women paying for abortions with their own funds. . . . We're not going to let this into law."
Popular in the Community