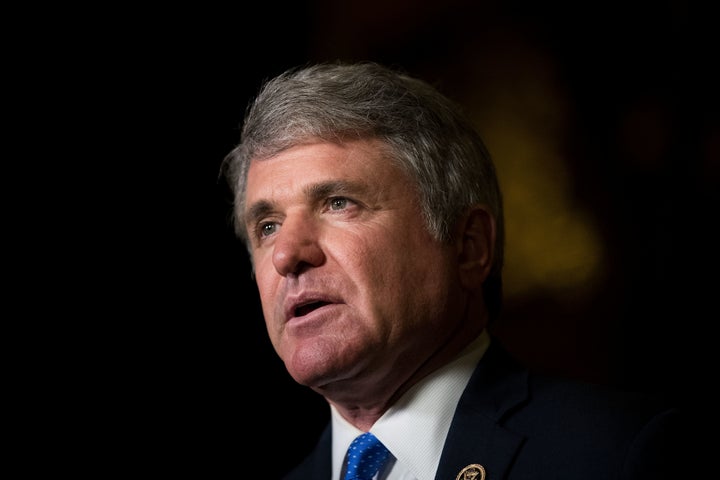 WASHINGTON ― Michael McCaul, chairman of the U.S. House Committee on Homeland Security, was initially one of the first Republicans to offer support for President Donald Trump's executive order on refugees and foreign nationals. But now that the Texas Republican understands the immigration order better, he wants his committee to review the document.
"I think from a legal basis, you have to be careful," McCaul told The Huffington Post on Monday night.
"They're denying people entrance into the country that already have the legal authority to do so. I think that that's the sticking point," McCaul said.
He said he's informed the Trump administration that the Homeland Security Committee will be reviewing the order. "We're going to be hashing those issues out. It's certainly not over."
That's a departure from McCaul's original position. He was quick to praise Trump once the executive order was announced Friday afternoon.
"With the stroke of a pen, he is doing more to shut down terrorist pathways into this country than the last Administration did in eight years," McCaul said in a statement that came out before the text of the order was made public.
But Monday, with a better understanding of the language, McCaul seemed to reverse course in a new statement Monday.
"In light of the confusion and uncertainty created in the wake of the President's Executive Order, it is clear adjustments are needed," McCaul wrote.
In addition to suspending refugee resettlement, the executive order bars nationals of seven Muslim-majority countries ― Iran, Iraq, Libya, Somalia, Sudan, Syria and Yemen ― from entering the U.S. for 90 days. The ban was so broad that it extended even to legal permanent U.S. residents, which was a sticking point for McCaul and several other Republicans. The Department of Homeland Security announced Sunday evening that legal permanent residents are not barred from the country, though they must undergo a review before they can enter.
McCaul was a national security adviser for the Trump campaign and was a top contender to be DHS secretary before Trump selected retired Gen. John Kelly.
With McCaul's close relationship with Trump, as well as his position as the House Homeland Security chairman, he'd be a natural ally in helping to put together the executive order. Former New York City Mayor Rudy Giuliani even said he had worked with McCaul and others on how to take a "Muslim ban" and show Trump "the right way to do it legally."
"It could have been done better," McCaul said.
Popular in the Community