NEW YORK – The McClatchy Company, a chain of more than 30 U.S. newspapers, is expected to close its foreign bureaus by the end of 2015, according to sources familiar with the plans.
Following rumors in August that McClatchy might shutter its four bureaus in Beijing, Mexico City, Istanbul and Berlin -- in addition to removing a stringer who regularly reported from Irbil, Iraq -- Chief Executive Pat Talamantes told Politico that no final decision had been made.
But on Friday, Dion Nissenbaum, a former McClatchy reporter who now covers national security for the Wall Street Journal, seemed to confirm the speculation on Twitter.
Indeed, sources tell The Huffington Post that McClatchy will not only close its foreign bureaus, but also cut back national coverage. Some fear the Washington bureau will be increasingly utilized to service local papers, resulting in a diminished national presence.
Management will notify employees soon about a redistribution of resources across the company, perhaps as early as Monday. There are not expected to be layoffs of full-time employees, who may be reabsorbed into other parts of the company, according to sources.
Anders Gyllenhaal, McClatchy's vice president of news, did not respond to a request for comment.
McClatchy has occupied a unique space in Washington journalism, routinely punching above its weight, especially on national security and foreign affairs, and taking a harder line against government requests to withhold information.
The company had a small Washington staff before purchasing the Knight Ridder newspaper chain in 2006. A few years earlier, Knight Ridder produced the most skeptical coverage of intelligence claims during the run up to the Iraq War. More recently, McClatchy reporters won a Polk Award in 2012 for Syria coverage and were Pulitzer Prize finalists in April for coverage of the Senate Intelligence Committee's CIA torture report.
McClatchy has already closed several foreign bureaus in recent years, including Moscow, Nairobi, Kabul and Baghdad. The anticipated changes signal a further scaling back of the newspaper chain's national and international ambitions and come on the heels of a few prominent departures, including high-profile reporter Jonathan Landay heading to Reuters.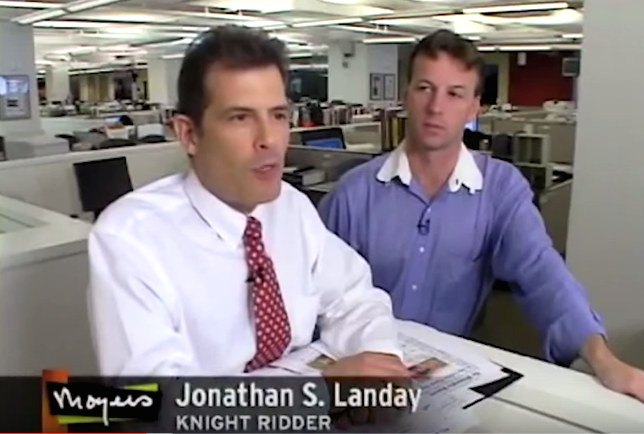 Landay, who joined Knight Ridder in 1999, was part of the duo -- along with Warren Strobel, also now at Reuters -- leading the Washington bureau's pre-Iraq coverage. More recently, he was part of last year's CIA torture reporting team.
Though Landay didn't comment specifically on his own situation, he expressed concerns about McClatchy cutting back on foreign coverage.
"At a time when the world is careening into greater chaos and mayhem, Americans want to know what's happening and how this is going to affect them," Landay told HuffPost. "By closing the foreign bureaus, we're shutting off an important source of news and analysis at a time when we need to be paying more attention because our mission is to inform and educate. And boy, we need that now more than ever."
News of Landay's departure came a week after Washington Bureau Chief James Asher announced he'd be leaving by the end of the year. Asher, formerly the bureau's investigations editor, had been chief since 2011.
John Walcott, who was Washington bureau chief from 2002 to 2010, acknowledged in an email that "McClatchy must deal with financial realities, and they've maintained their foreign, national security, national affairs and investigative work in Washington long after most of their peers gave up.
"Still, this decision comes at great cost to the public discussion of issues that are growing as technology, economics, environmental concerns and other issues shrink our world," Walcott continued. "The Knight Ridder and McClatchy bureaus were sadly unique in the value they placed on cultivating the working level sources closest to the action and the resistance they maintained to the lure of trading independence and critical thinking for access to the political, military and economic establishments."
McClatchy bought the larger Knight Ridder newspaper chain for $4.5 billion, just as the newspaper industry began to free fall amid steep drops in advertising revenue and reader habits shifting online.
The company -- which was nearly delisted in August from the New York Stock Exchange -- still owns dozens of newspapers across the United States, including the Miami Herald, Sacramento Bee, Charlotte Observer, Kansas City Star and Wichita Eagle.
The company has also been investing more resources in digital and video initiatives. Last month, it hired National Journal Editor-in-Chief Tim Grieve as head of news strategies, a newly created position focused on the digital expansion of newspaper websites around the country.
This article has been updated to include John Walcott's comment.
CORRECTION: A previous version of this story incorrectly referred to a McClatchy bureau in Irbil, Iraq. A stringer regularly reported from Irbil for the company.
Related
Popular in the Community