One of the most active political organizations in the 2016 election cycle wasn't a political organization at all. It was a nonprofit allied with Senate Majority Leader Mitch McConnell that received all of its money from anonymous donors and hardly reported any of its political spending to the Federal Election Commission (FEC).
Known as One Nation, it drew from a war chest that swelled with seven- and eight-figure checks from a few secret donors and spent tens of millions of dollars not on employees — it has none — or social welfare programs — it didn't really have those either — but on expensive ad campaigns to help Republicans keep their majority in the Senate.
Social welfare organizations, such as One Nation, are supposed to have social welfare as their primary purpose — hence the name "social welfare organization" — but the IRS has never defined what "primary purpose" actually means. As a result, it is generally interpreted to be less than 50 percent of overall spending. One Nation's $40 million of electioneering would put it well over the 50 percent mark, at a minimum, potentially jeopardizing its tax-exempt status, if the IRS decides to scrutinize the group's activities.
The only known donor to One Nation, according to a separate tax return obtained by The Center for Responsive Politics, was Crossroads GPS, another social welfare organization that is run by the same people who run One Nation and which, like One Nation, doesn't have to disclose its donors.
Ground support for Senate Republicans
The number of ads One Nation bought for 2016 Senate elections ranked 27th on a list of top 50 outside groups over a cumulative 16-year period, according to a joint report published last year by the Wesleyan Media Project and CRP. That is, in a single year, One Nation beat out groups that had been buying ads for years, even decades, including super PACs, which exist solely for political purposes.
In addition to its direct ad buys, One Nation also channeled $21.7 million into the coffers of the Senate Leadership Fund (SLF), making it the biggest donor to the super PAC. SLF shares an office and staff with One Nation.
In addition to its TV ads and super PAC contributions, the group's then-spokesman Ian Prior told CRP in an email last year that what the group didn't spend on issue ads and direct political ads — a balance more than $11.6 million — went toward "non-television issue advocacy." He didn't clarify what that was specifically.
Non-broadcast ads — whether they are mailers or digital ads on the internet — generally don't have to be reported to the FEC, unless they make direct appeals to support or oppose candidates, meaning that One Nation could have sent "issue" mailers or bought digital ads close to any election without reporting the spending. For example, in September and October, when the FEC's reporting window had opened, One Nation was still adding positive issue ads, cheering on Senator Burrand others, but none of the ads were reported to the FEC — either because they were only meant for YouTube, and therefore cost nothing to place, or they were part of a costly digital ad campaign that the FEC simply doesn't require groups like One Nation to report.
"With all due respect to what Ian [Prior] has said, the 990 statements speak for themselves," Chris Pack, the group's new spokesman, said in an email when asked about the totals Prior provided. "They are filed by calendar year. Those have been submitted as fact."
Asked if One Nation disputed the amounts Prior provided last year, Pack reiterated that "the 990 forms, which are broken down by year, speak for themselves."
The IRS is unlikely to challenge that narrative in any way, since the agency rarely takes the time to conduct a thorough audit of a particular group's finances. Furthermore, since One Nation is not actually a new group, but an old group that was taken over by new people, the IRS has already approved its application for tax-exempt status.
If the IRS did audit One Nation's activities, it would find that One Nation spent tens of millions on "grassroots advocacy" in states with tight Senate races during periods when such ads did not have to be reported to the FEC, and that the subjects of those ads, or their opponents, often became the targets of direct appeals for support or opposition once the FEC's reporting window opened. It's a strategy many "dark money" groups use to maximize political impact while reporting as little spending as possible.
For example, One Nation began running ads supporting Missouri Senator Roy Blunt (R-Mo.) as far back as October of 2015. But once the FEC's reporting window opened, One Nation began directly challenging Democrats, including Blunt's opponent Jason Kander (D-Mo.), who was hit with $478,342 in negative ads in the final weeks of the election. Blunt went on to win re-election.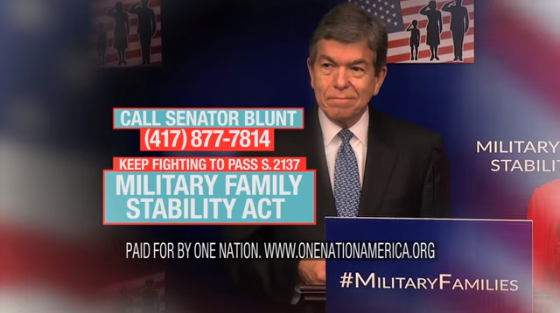 Another notable discrepancy is that Prior wasn't even including One Nation's super PAC donations as part of the group's political activity. Since a super PAC is, by definition, a political entity, the contributions would likely raise One Nation's potential political spending to over $61 million, which was more than 80 percent of the group's overall spending over two years.
Lots of money, no disclosure
In 2016, One Nation got most of its money from 13 anonymous donors giving more than $1 million. Three of those donors gave more than $10 million. The largest was $18.2 million. This is building off the previous year when the group received 61 percent of its funding from just four anonymous donors giving $1 million or more.
The identity of the second largest donor, who gave $11.9 million, is revealed in another tax return obtained by The Center for Responsive Politics. The source was Crossroads GPS, the once-powerful political behemoth whose creation was spearheaded by Karl Rove. The donation accounted for nearly 74 percent of Crossroads GPS' spending in 2016.
Steven Law, president of Crossroads GPS, is also president of One Nation, and the treasurer of both organizations is Caleb Crosby.
Law and Crosby also run the Senate Leadership Fund, and all three groups operate out of the same office.
But knowing that Crossroads GPS was the source of one of One Nation's largest grants does little to help us understand what prominent corporation or wealthy individual might have provided the funds, because Crossroads GPS, like One Nation, does not have to disclose donors.
Crossroads GPS received most of its funding in 2016 from just three donors: Two who gave $5 million and one who gave $2 million.
Calling all HuffPost superfans!
Sign up for membership to become a founding member and help shape HuffPost's next chapter
This post was published on the now-closed HuffPost Contributor platform. Contributors control their own work and posted freely to our site. If you need to flag this entry as abusive,
send us an email
.