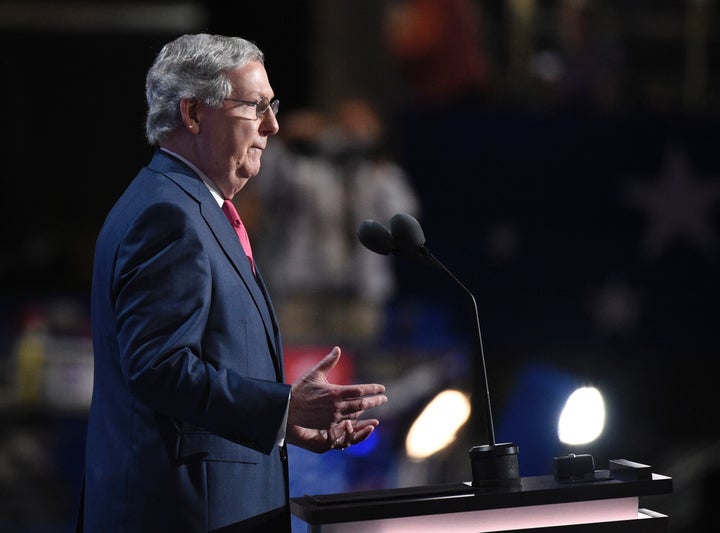 CLEVELAND ― Senate Majority Leader Mitch McConnell appeared before delegates twice at the Republican National Convention here on Tuesday, drawing resounding boos both times.
But the boos only got worse later in the night. McConnell came out before the pro-Trump crowd for his speech and was roundly rejected with boos again.
A number of delegates that The Huffington Post talked to Tuesday night expressed frustration with the Majority Leader, explaining why their cohorts might boo McConnell. But despite an overwhelmingly negative reaction from delegates, no one would own up to booing McConnell themselves.
Texas delegate Marco Rodriguez said a lot of the grassroots Republicans have been disappointed with how McConnell has reacted to President Barack Obama. "A lot of people were involved in sort of a final push to get him re-elected not that long ago, and they just don't like how they've conducted business," Rodriguez said, adding that many Republicans put McConnell "in a similar vein to former Speaker Boehner."
California delegate Cheryl McDonald, decked out in a cowboy hat with a large Trump button in the middle, said she felt better about McConnell after the speech.
Before the convention, McDonald said, she thought McConnell had not come out forcefully enough for the party's then-presumptive nominee.
"I didn't think he was backing Trump fully," McDonald said of McConnell.
But other Republicans felt like the show of disapproval for the Majority Leader was less about Trump and more about unfocused frustration with Washington.
Rep. Andy Barr, a fellow Kentucky Republican of McConnell's, said that even though he was cheering loudly with the rest of his delegation for McConnell ― Barr was actually wearing a "Team Mitch" sticker on the lapel of his suit jacket ― he understood why some Republicans might boo.
"It's a reflection of frustration with Washington putting sand in the gears of the economy, and making the American people less safe," Barr said. "So there's frustration with Washington, yes, but I think the delegates in this room would have a different feeling about Washington if we had a president that Congress could work with."
Barr added that the rules of the Senate were "obviously an impediment" to getting things done, but he didn't think the dissatisfaction delegates expressed was directed at McConnell. "I wouldn't read much into that," he said.
Best Photos From The Republican National Convention
Popular in the Community