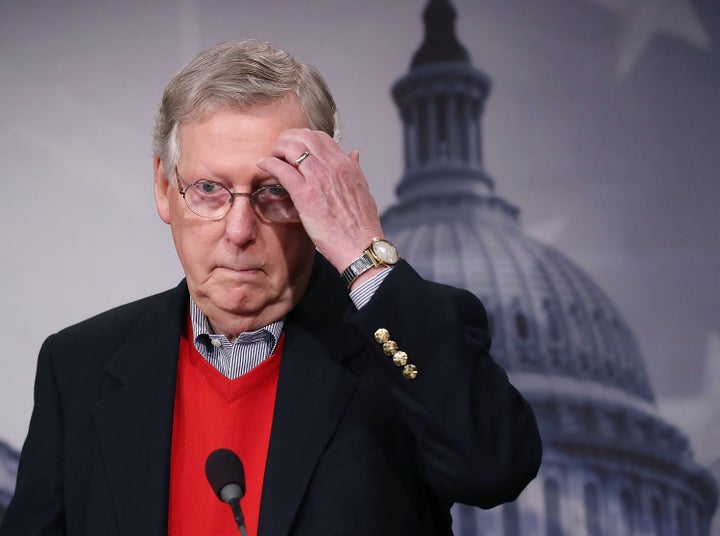 Senate Majority Leader Mitch McConnell had a simple message on Tuesday for House conservatives looking to cut spending in the 2017 budget: The Senate is not changing the topline number for next year.
"We'll be using the topline that was agreed to last year in order to move forward on the Senate appropriations," McConnell said Tuesday, referring to the $1.070 trillion budget number that Republicans and Democrats agreed to in October.
A number of House conservatives have been pushing leadership on their side of the dome to abandon that agreement and adopt a budget at the spending level agreed to under sequestration -- $30 billion less.
While House GOP leadership has seemed resistant to that idea -- Speaker Paul Ryan (R-Wis.) has told the House Freedom Caucus privately that "the number is the number," according to members -- there has been some chatter that Republicans might put forward a budget that goes back on the October budget deal.
Budget Chairman Tom Price laid out a plan on Thursday that would keep the $1.070 trillion number for his budget blueprint, but would set up votes to cut $30 billion of spending over two years, and more than $100 billion over the next decade -- with promises of also voting on a Balanced Budget Amendment to the Constitution.
There's still a good deal of speculation as to whether House Republicans have the votes to adopt the budget with that plan, but House Freedom Caucus member Mark Meadows (R-N.C.) told The Huffington Post last week that he was surprised by how many Freedom Caucus members said they were "undecided" or "lean yes" on a survey that leadership put out on the budget.
"I got the impression that there was a lot more undecided members of the Freedom Caucus," Meadows said, "and again, I think that supports the idea that we're trying to find something meaningful."
But another Freedom Caucus member who spoke to HuffPost more candidly on the condition of anonymity noted that he whipped undecided partly because he hadn't seen the actual budget, and partly because he didn't want to be seen as intractable. That doesn't mean, however, he is any less opposed to the budget plan.
So if the House is unable to move forward with the Price plan, they could abandon doing a budget (and appropriations bills) altogether. Or they could try it the Freedom Caucus way and do a budget at the lower number.
Either way, McConnell was resolute that the Senate wasn't going back on last year's $1.070 trillion deal.
Asked what the Senate would do if the House adopted the lower number, McConnell said you'd have to talk to Senate Budget Chairman Mike Enzi (R-Wyo.) about that. "But regardless, we have the topline for this year," McConnell said.
And with Senate Democrats sending McConnell a letter urging him to get on with doing individual spending bills, McConnell said he was "pretty optimistic" that his chamber would move forward with the appropriations legislating.
Asked what Senate Republicans would do if Democrats began obstructing that process, perhaps as retaliation for Republican obstructionism on a Supreme Court nominee, perhaps just as an effort to draw election-year distinctions with Republicans through contentious amendments, McConnell stayed decidedly glass-half-full.
"I don't believe they will," he said of Democrats holding up spending bills. "I think we're going to have a pretty successful appropriations process."
REAL LIFE. REAL NEWS. REAL VOICES.
Help us tell more of the stories that matter from voices that too often remain unheard.