Senate Minority Leader Mitch McConnell (R-Ky.) thinks the United States should heed expert advice on whether to impose flight restrictions on Ebola-stricken countries in West Africa, contrary to what some lawmakers in his party have been saying for weeks.
"I think we ought to listen to what the [Centers for Disease Control and Prevention] thinks they need either in terms of financing or certainly they'll decide the procedures for travel and all the rest," McConnell told NBC News in an interview. "I think we need to follow the advice of the experts who know how to fight scourges like this."
The Obama administration and top health officials charged with responding to the outbreak maintain that a flight ban would impede the work of aid workers who need to be able to travel to and from Liberia, Sierra Leone, and Guinea in order to contain the virus at its root.
Two dozen Republicans sent a letter to President Barack Obama last week, however, urging him to impose flight restrictions on those countries. Sen. Ted Cruz (R-Texas), whose state is managing the first case of Ebola in the U.S., and Sen. Pat Roberts (R-Kansas) have similarly called for such a measure. Even some Democrats have come around to the idea.
At a press conference on Monday, CDC Director Tom Frieden urged restraint and said aid workers need every tool at their disposal in order to fight the outbreak.
"The way we're going to reduce risk to Americans is to do the steps of protection and stop Ebola at the source in Africa," he said. "If we do things that unintentionally make it harder to get that response in, to get supplies in," it will "become much harder to stop the outbreak at the source."
McConnell's remarks come as officials struggle to contain transmission of the deadly virus at a hospital in Dallas, Texas. A second nurse who became infected with Ebola while caring for a dying patient from Liberia took a flight to Dallas from Cleveland, Ohio, the day before she reported developing symptoms of infection, according to a report in Reuters on Wednesday. The Obama administration launched new screening procedures at five major U.S. airports this weekend, including taking the temperature of people who recently traveled from West Africa.
Watch McConnell's interview above.
Before You Go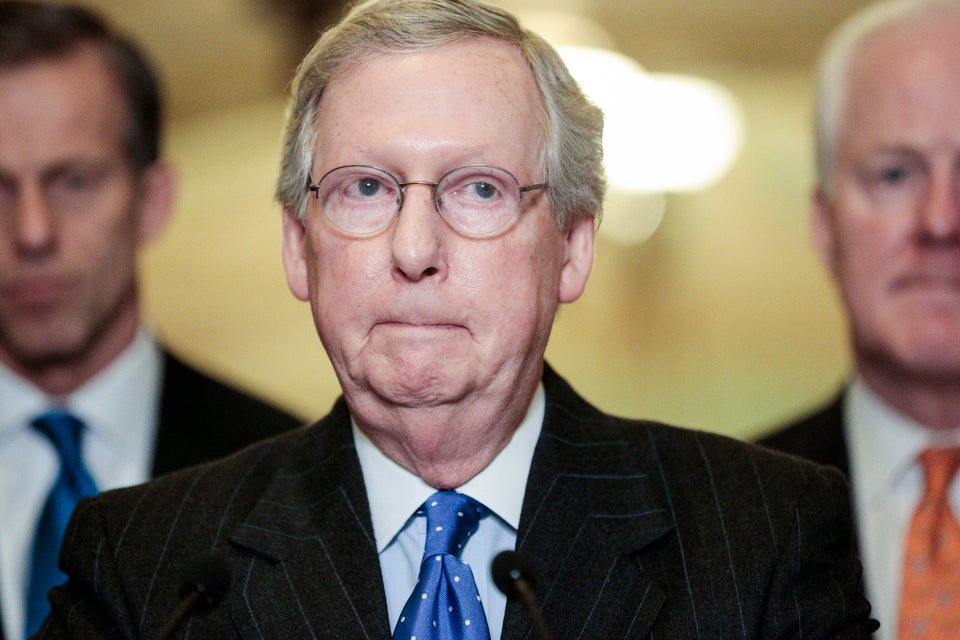 Say Cheese! Mitch McConnell Smiles
Popular in the Community