The blood on Senate Majority Leader Mitch McConnell's hands may be metaphorical, but the blood spilled on the marble floor outside his office on Thursday morning was very, very real.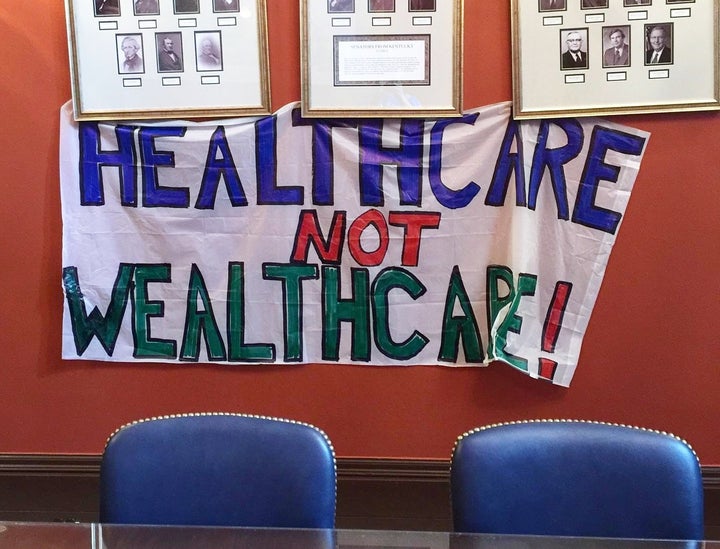 Darling told HuffPost he wasn't seriously injured. He didn't even realize he was bleeding until after he'd been handcuffed in the police wagon and "noticed a splotch of blood on the wall."
"To steal liberty and life, simply because they want to give a tax cut to the wealthy, is abhorrent to me."
"I want [Mitch McConnell] to understand that when the freedom and liberty of Americans is under attack, they fight back," Darling said. "It's appalling that the very government put in place to protect our liberty and freedom is attacking it today."
"To steal liberty and life, simply because they want to give a tax cut to the wealthy is abhorrent to me," he added. "The framers of the Constitution would be appalled by their behavior."
Many of the protesters removed themselves from their wheelchairs and lay down on the floor. Capitol Police said this justified the arrests and charges of crowding, obstructing or incommoding.
Stephanie Woodward, who can be seen getting hoisted out of her chair in the video above and who is photographed below wearing restraints, was one of the people arrested.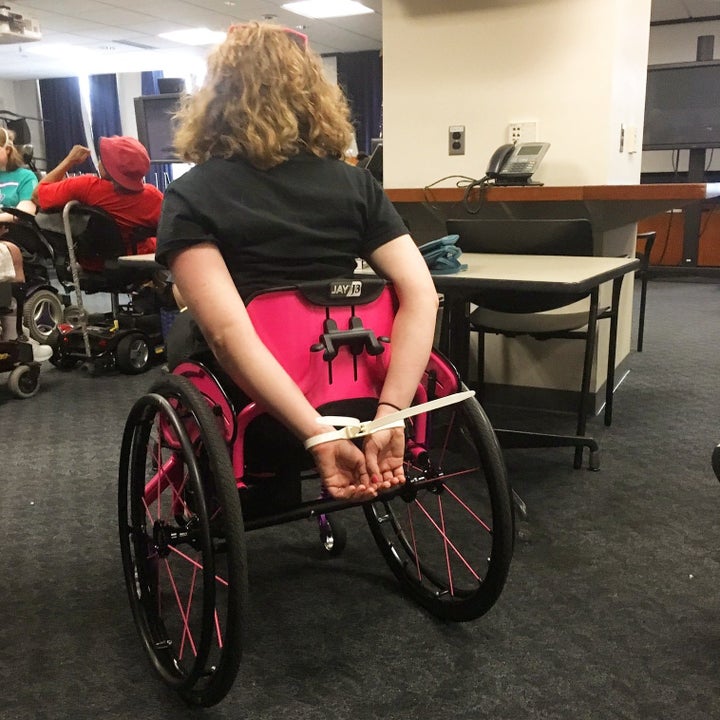 "I was born with spina bifida," Woodward told HuffPost. "In 1988, when I was born, [it] wasn't so easy for my mom, who is a hairdresser, and my dad, who is an electrician, to get health care and pay for multiple surgeries, wheelchairs, all that stuff."
The 29-year-old resident of Rochester, New York, has gone on to graduate from law school and now has her own private insurance. But "without Medicaid," she says, "I would not be here."
Asked what she would tell McConnell if she had the chance, she said she'd remind him of America's founding creed.
"Life, liberty, and the pursuit of happiness is not just for non-disabled Americans, it's for all Americans," she said. "By cutting Medicaid, he's basically telling us he thinks disabled Americans are better off dead than being a part of American life."
One of the more striking images to emerge from Thursday's protest features Laura Halvorson, a 33-year-old native of Dallas who has muscular dystrophy, wheeling out of the hall under the direction of a police officer.
"When an officer asked me to come with her, in my heart I wanted to resist completely and refuse to move my chair," she said, "but since I use a breathing machine that was attached to the back of my wheelchair, it could have been deadly if the machine were unhooked for too long. So, I complied with the officers."
Halvorson requires help for activities like bathing and cooking meals, so she's hoping to be approved for a personal care attendant via a Medicaid Waiver program, which would cost half as much as care in an institutionalized setting and offer a higher quality of life.
"Medicaid Waivers are optional services for states to provide, and would likely be the first thing to go, due to the AHCA's drastic cuts to Medicaid," Halvorson said. "For me, spending the rest of my days in a nursing home is not an option, due to their high rates of abuse and neglect."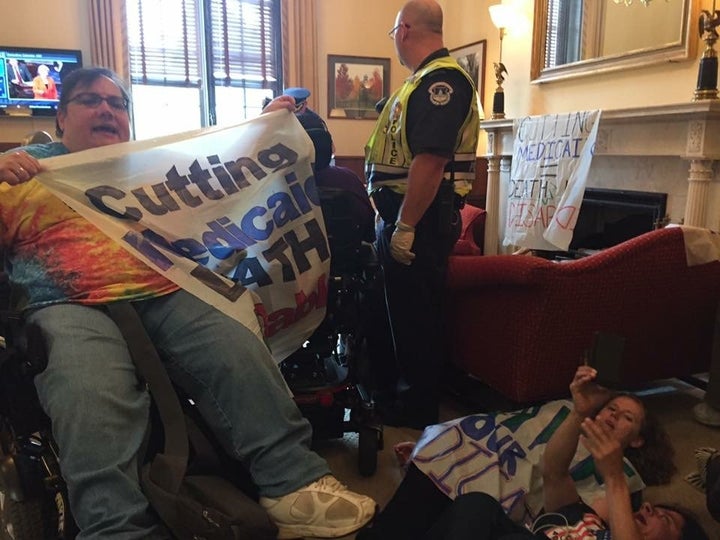 Susan Stahl, a 52-year-old from Rochester, New York, was also among those arrested.
"I have cerebral palsy, and I have a back injury," she told HuffPost, explaining how essential Medicaid is to everything in her life. An aide helps her with daily tasks like showering, cooking and using the toilet. As a result, she's able to have a job, own a house and live life.
Stahl relies on a power wheelchair and crutches, both of which are at risk as the Republican bill seeks to cut Medicaid funds for durable medical equipment.
She said she wasn't surprised politicians called to have her arrested. "It's an 'inconvenience' to them," she said, "but to me, it's my life."
"Like every other American, I want to be out in the community. I don't want to be locked away behind closed doors," she said. "This is my freedom, this is my liberty."
"Without Medicaid, none of those things would happen. I would be stuck in a nursing home."
For more information on the Senate's health care bill and its effect on the social safety net, click here.
Popular in the Community