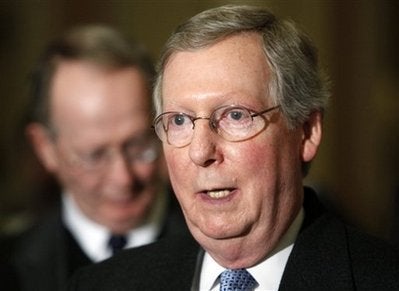 Senate Minority Leader Mitch McConnell hinted on Sunday that Republicans would campaign for office in the months ahead on a pledge to undo health care legislation, should it become law. But the Kentucky Republican refused to commit to pursuing a repeal, saying merely that the health care reform of 2009 would be a major issue come 2010.
"Certainly politically, it is a big problem for [Democrats]. They all kind of joined hands and went off a cliff together," McConnell told ABC's "This Week," when asked whether the GOP would push for a health care reform repeal. "There is great unrest in the Democratic Party. And the reason for that it is, the surveys indicate the American people are overwhelming opposed to this effort to have the government take over their health care. It will be a huge issue next year. And that's why you hear the Democrats saying, 'Let's not tackle any big issues'."
Pressed by host Jake Tapper to say more definitively whether a repeal of health care was going to be a tenet of the Republican agenda, McConnell said he thought he had answered the question. He then proceeded to provide another vague response.
"There's no question that this bill, if it were to become law and frankly even if it doesn't become law, it will be a big, if not central, issue not only in the 2010 election but in the 2012 election," he said.
Tapper took the second of McConnell's remarks as a yes to the question of pursuing a repeal. But reading the language closely, it seems clear that the minority leader tried his best not to engage on the question. Many of the benefits of health care reform aren't going to come into place until 2013 or 2014. But it still seems politically untenable for a party to push for overturning of a law that not only grants billions of dollars in subsidies to help the uninsured purchase insurance, but also achieves commonsense reforms like eliminating the use of pre-existing conditions as a means to deny coverage.
Popular in the Community