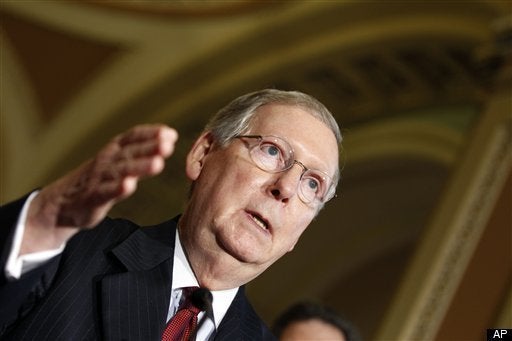 Sen. Mitch McConnell's (R-Ky) office expressed openness on Wednesday to a compromise proposal on the Bush tax cuts, saying that the Minority Leader would entertain a temporary extension of all tax cuts even though a longer extension remains his preference.
A spokesman for the Kentucky Republican told the Huffington Post that the senator would consider punting the issue of what to do with the Bush tax cuts down the road by supporting a two-year extension of the current rates.
"If what it takes to prevent a tax hike is to start with two years, if that's what it takes to talk Democrats out of raising taxes, that would be a good start," said Don Stewart, McConnell's communications director. "But we're not for raising taxes in two years... If all we can get is two years without raising taxes, and then have that debate again then, fine. But we're not for raising taxes."
"The most important thing is to prevent a tax hike in the middle of a recession," Stewart added. "This should be done for as long as possible, but a 2-year freeze at the current rate, if that's what it takes to prevent a Democrat tax hike, would certainly be preferable to an immediate tax hike on every taxpaying American."
McConnell's stance provides yet another indication that Congress will, in fact, cut a deal on the Bush tax cuts. As written into law, those cuts are set to expire at the end of this year. The Obama administration has called for an extension for those making less than $250,000 a year. Rates for the wealthy would return to previous levels. Republicans have, by and large, called for an indefinite extension of all tax cuts across the board.
On Tuesday, former OMB Director Peter Orszag became the latest high-profile voice to lend his support to a compromise proposal. Keep the tax cuts in place for a few years, he wrote in a widely discussed New York Times article. Then allow the cuts to expire for all income brackets.
Stewart stressed that McConnell opposes this idea. "He's not for a tax hike on every single taxpayer as the second half of the Orszag proposal would do," he said, adding that "even the White House opposes that part."
Instead, the Kentucky Republican expressed openness to the type of compromise approach outlined by Moody's analyst Mark Zandi -- in which all tax rates would be frozen for two years and then the rates on the wealthy would be raised to prior levels.
Several Senate Democrats and Democratic candidates have expressed support for this approach, citing concerns over a lagging economic recovery. The Obama administration, for its part, has been firm in its opposition to the approach. Noting that just two percent of small businesses would be impacted by raised rates for higher-income Americans, the president and his aides have also predicted that a temporary extension of the Bush tax cuts could easily turn into a permanent one.
"I think the phase out suffers from that vulnerability," Vice President Joseph Biden's chief economist, Jared Bernstein, told the Huffington Post. "You are exposing yourself to the risk that it could be made permanent. The president, [Treasury Secretary] Tim Geithner have been very articulate on this point. If you wanted to, and we do, provide more help to the economy that is about the worst way you could do it. Those folks tend not to be liquidity-constrained and therefore the kinds of multipliers associated with that type of spending are the lowest. So it simply is not good stimulus policy and it is not good budget policy."
This post was updated to clarify McConnell's position a bit further
UPDATE: Greg Sargent tracks down Orszag who gently clarified his position on the Bush tax cuts and downplayed any distance he has with the White House's approach.
Support HuffPost
The Stakes Have Never Been Higher
Popular in the Community