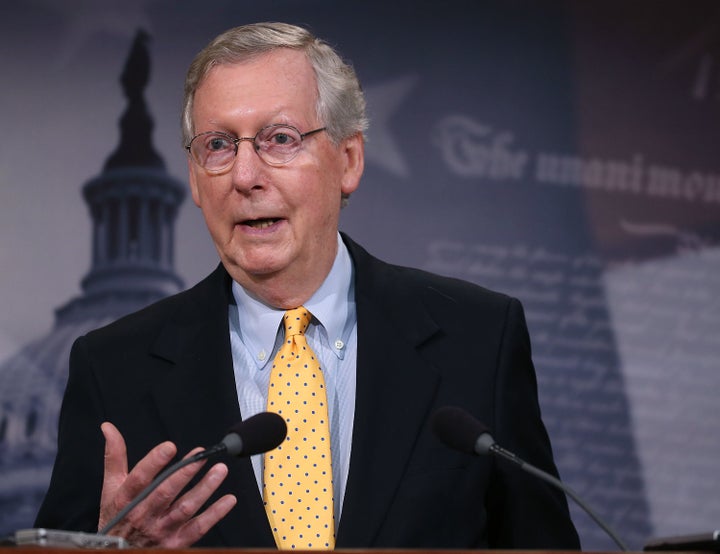 WASHINGTON -- Senate Majority Leader Mitch McConnell (R-Ky.) set up a contentious battle Tuesday that could shut down the government, offering up a bill that links federal spending with the Republican push to defund Planned Parenthood.
The federal government will run out of money at the end of the month if Congress does not act before then.
But McConnell announced that rather than move a short-term measure to keep the government operating, and thus give Democrats and Republicans time to compromise on a longer plan, he will push a bill that defunds the family health care provider.
Democrats are nearly unanimous in opposing such a move, meaning that government funding is all but guaranteed not to pass in time unless McConnell brings forward a clean continuing resolution immediately after the expected defeat of this one. The vote is scheduled to happen Thursday, right after Pope Francis addresses a joint session of Congress.
By way of explaining his move, McConnell cited the series of heavily edited sting videos, released earlier this year, that purport to show Planned Parenthood officials bargaining to sell baby parts.
"I know Democrats have relied on Planned Parenthood as a political ally, but they must be moved by the horrifying images we've seen," McConnell said. "Can they not resolve to protect women's health instead of powerful political friends?"
After meeting with his Republican conference, McConnell told reporters that the vote will give those in his caucus who are "offended" by the videos "the opportunity" to defund Planned Parenthood.
A recent analysis of the sting videos found that the footage had been extensively manipulation, and fact-checkers have said that Planned Parenthood was donating fetal tissue for research, not selling it for profit.
The short-term bill would last until Dec. 11, and would leave most spending at reduced levels, except for adding some $13 billion to the military -- another step that Democrats have said would be unacceptable. They want domestic programs to be adjusted upward as well.
McConnell's move this week marks an about-face from his previous position. Just before going on recess in August, the majority leader vowed that Republicans would not shut down the government over Planned Parenthood, saying the GOP had learned from its disastrous shutdown battle in 2013. "There's no education in the second kick of a mule. We've been down this path before," McConnell said then.
Asked why he was now bringing forward the spending bill with a controversial rider attached -- a tactic he'd previously called an "exercise in futility" -- McConnell said he wants to see what happens on Thursday and that he will go from there.
It's widely expected among Democrats, and some Republicans, that McConnell will bring forward a clean funding measure once the vote on Thursday fails.
Democrats were quick to condemn McConnell following Tuesday's announcement.
Senate Minority Leader Harry Reid (D-Nev.) called the move a "waste," chiding Republicans for bringing Congress closer to a government shutdown.
"We've wasted votes, and wasted votes, and wasted votes," Reid told reporters after weekly caucus meetings.
Senate Minority Whip Dick Durbin (D-Ill.) echoed that sentiment, accusing Republicans of scheduling a week of work "for showcasing Republicans for president."
Sen. Ted Cruz (R-Texas), who is running for the Republican nomination, is the primary advocate in the Senate among hard-liners for tethering the Planned Parenthood fight to the spending debate. Cruz has met with House conservatives, who have stirred up trouble for House Speaker John Boehner (R-Ohio) as he tries to find a way forward to avoid a shutdown.
Procedurally, the Senate tends to wait for the House to act first on continuing resolutions to keep the government funded. Due to the holdup in the House, however, the Senate will act first on Thursday.
If McConnell, as expected, brings forward a clean spending measure after that vote, it could keep the Senate in for weekend work.
Reid urged McConnell to go that route, and claimed that McConnell has told him that's indeed his plan.
"If he's not going to do that, I have no idea what his plan is," Reid said. 
This story has been updated with additional comments from McConnell, Reid and Durbin.
Calling all HuffPost superfans!
Sign up for membership to become a founding member and help shape HuffPost's next chapter