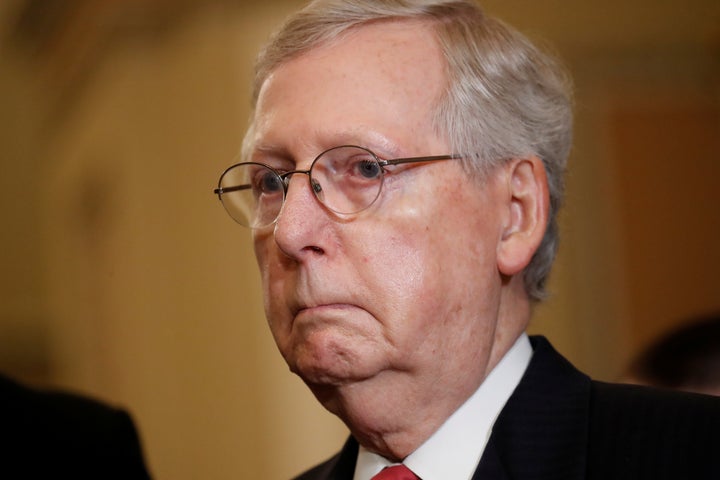 Senate Majority Leader Mitch McConnell (R-Ky.) is reportedly worried about the confirmation battles that could loom for two of President Donald Trump's top potential nominees to replace former Supreme Court Justice Anthony Kennedy.
McConnell believes that the lengthy trial record of Judge Brett Kavanaugh, appointed in 2006 to the U.S. Court of Appeals for the District of Columbia Circuit, and his previous stints in President George W. Bush's administration may prove to be obstacles during the confirmation process, The New York Times reported Saturday.
The pages of legal rulings and other documents authored by Kavanaugh "is said to run into the millions, which Mr. McConnell fears could hand Senate Democrats an opportunity to delay the confirmation vote until after the new session of the court begins in October, with the midterm elections looming the next month," the newspaper said. McConnell also "is uneasy about relitigating Bush-era controversies, the officials briefed on his discussions with Mr. Trump said," the Times reported
Additionally, McConnell warned Trump he could risk losing the support of moderate GOP senators Susan Collins of Maine and Lisa Murkowski of Alaska if he nominates Amy Coney Barrett to the high court, according to the Times.
Barrett, 46, was appointed to the U.S. Court of Appeals for the Seventh Circuit just last year. She is popular among social conservatives and is seen as especially open to eliminating constitutional protection for abortion rights.
McConnell told Trump that Raymond Kethledge and Thomas Hardiman, two other federal appeals court judges on the president's high-court shortlist, would have an easier path to approval in the Senate, according to the Times.
"The thing that concerns me the most about Brett Kavanaugh is that all the people who said [Supreme Court Chief Justice] John Roberts would be a rockstar for the right say the same about Kavanaugh," tweeted conservative radio host Erick Erickson.
In 2012, Roberts cast the key vote in a 5-4 court decision that preserved the ACA.
Kethledge, 51, was appointed to the U.S. Court of Appeals for the Sixth Circuit in 2008. He's seen as a solidly conservative choice with less baggage than Kavanaugh.
Hardiman, 53, was appointed to the U.S. Court of Appeals for the 3rd Circuit in 2007 and was previously a strong contender for the Supreme Court seat left vacant by the death of the late Justice Antonin Scalia. Trump, in one of his first major decisions as president, picked Neil Gorsuch instead.
Trump is scheduled to announce his Supreme Court nominee in a televised address from the White House on Monday at 9 p.m.
Support HuffPost
The Stakes Have Never Been Higher
Popular in the Community