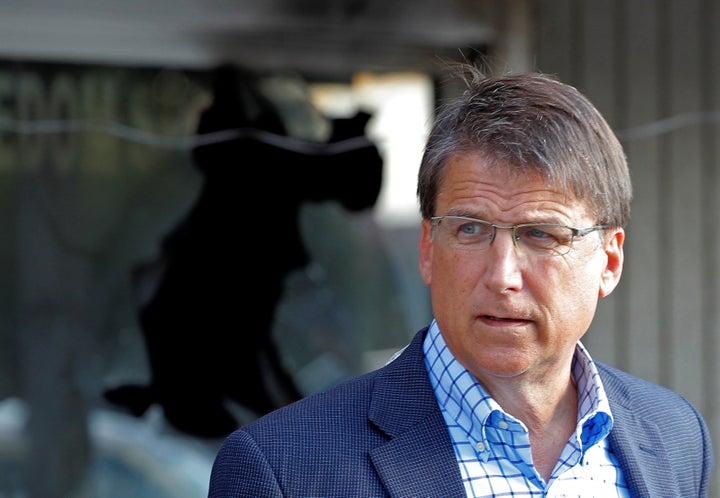 In a gubernatorial debate Tuesday night, North Carolina Gov. Pat McCrory (R) defended his signing of House Bill 2 earlier this year, which included a ban on transgender individuals using the bathroom of the gender with which they identify.
"The left brought this issue up, not the right," he said.

McCrory said the state bill was meant to deal with the "concept of gender identity, which was a radical concept." He blamed his Democratic opponent for governor, state Attorney General Roy Cooper, and Charlotte Mayor Jennifer Roberts specifically. 
"Do y'all even know what the penalty was in Charlotte for someone that did not accept gender identity as the new requirement in identifying if you're a boy or girl? It was a fine of $500 and/or a 30-day jail sentence," said a heated McCrory. "This is what we overturned. That's why we took action."
"I will not accept the radical changes that Roy Cooper and Jennifer Roberts have brought to North Carolina," said McCrory. "Had that not been there, I don't think we would have had a problem. Because I don't believe in any kind of discrimination."
The law McCrory signed in March doesn't just block transgender people from using the bathroom of their choice. It blocks cities and towns in the state from implementing any local measures to expand protections for lesbian, gay, bisexual and transgender individuals.
"This is all he can talk about," Cooper responded at the debate Tuesday. "This is why North Carolina is having a problem with its reputation."
"If a local government wants to protect people from being fired because they're gay, HB 2 says you can't do that," Cooper continued. He added that it would also block local governments from raising the minimum wage, or implementing protection for veterans as well.
McCrory maintained that he has "been looking for a compromise for months" and could support protections for LGBT rights in employment if they didn't include gender identity or gender expression. But he would not "support this concept … where we're going to identify gender based on what you think you are."
WITN, an NBC affiliate, live-streamed the debate online. Libertarian candidate Lon Cecil also participated.
Calling all HuffPost superfans!
Sign up for membership to become a founding member and help shape HuffPost's next chapter