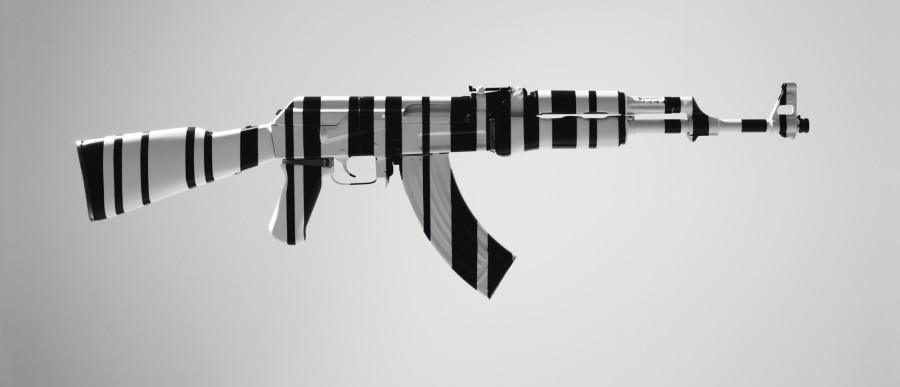 AK47, Black on white paint, lacquered, 87cm x 25cm: Removed from DR Congo. Decommissioned AK47 of Russian origin. AK47 is McCrow's original artwork.
"Guns have long had an extraordinary and terrible influence over us," artist McCrow writes on his website. "There are those who glorify them, those that subjugate through them and those who suffer by them."
This connection between man and weapon serves as the focal point of his most recent exhibition, "History Interrupted, The Art of Disarmament" at the Hoerle-Guggenheim Gallery. The show puts on view a collection of 20 decommissioned AK47s and other small arms, collected from regions of conflict around the world -- the Democratic Republic of Congo, the Palestinian territories, Iraq. McCrow renders the firearms useless, lacquering, polishing, and staining the guns until they resemble imposing sculptures hanging on the gallery's walls like a benign canvas.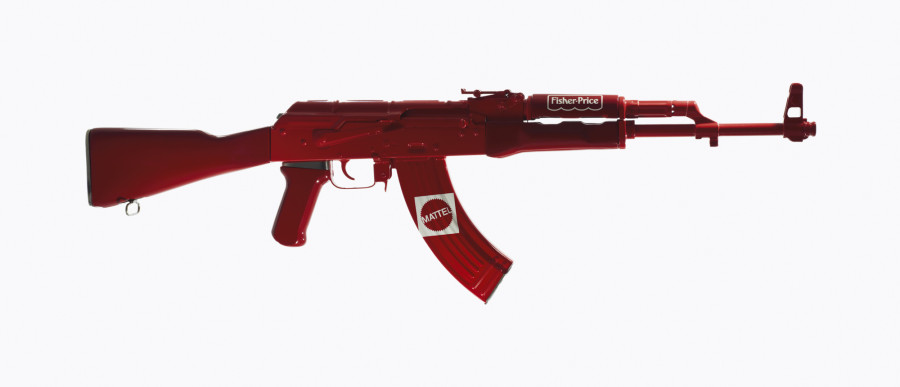 Toy Gun, Red paint, enamel and stenciled, 87cm x 25cm: Removed from DR Congo. Decommissioned AK47 of Chinese origin.
The U.K.-based artist began transforming deactivated guns into art after a close friend lost three limbs in an explosion while on tour with the British Army in Afghanistan. According to McCrow, he is both "fascinated and repulsed" by guns. This combination of awe and aversion shows in his work, whether in an AK47 adorned with a mock Fisher Price logo -- a nod "to the fact that in many war torn areas, irrespective of those forced to take arms, many children are more likely to experience a real AK47 before a toy one" -- or a lone magazine adhered to the middle of a gilded frame in homage to the first Gulf War.
To procure the guns he uses in his art, McCrow says that he works with individuals related to arms trade across the world. "It is through a number of contacts in this field of operations that I am able to acquire the weapons to deactivate," he told The Huffington Post. "This is done by the prevailing government, often with the cooperation or coordination of the UN or appropriate military force."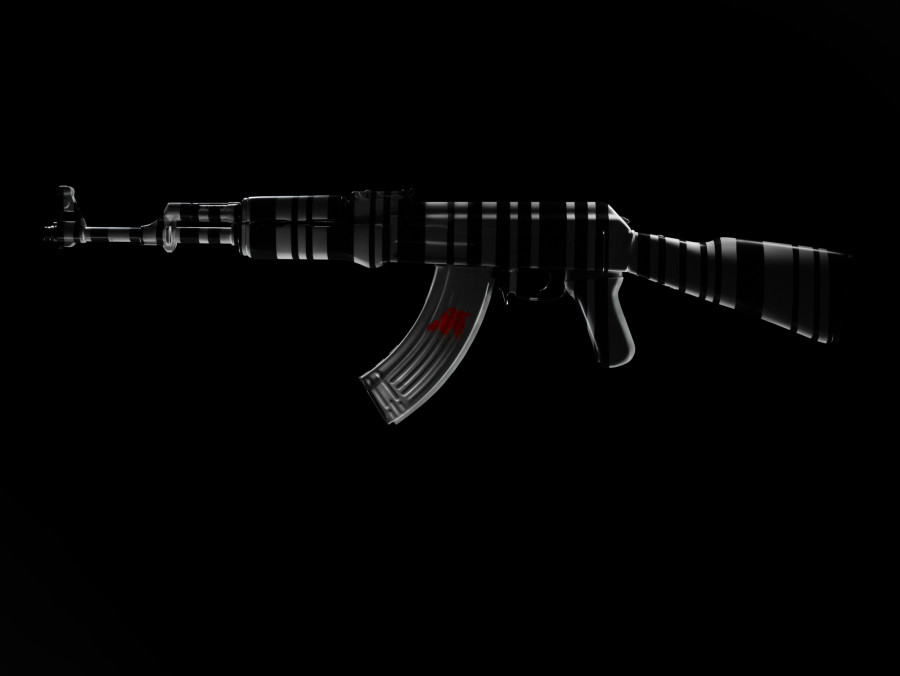 Way Out, Black on white paint, lacquered, 87cm x 25cm: Decommissioned AK47 of Russian origin. Way Out is a core piece in the AK47 Barcoded series created for the development of a number of works. The use of the barcode has become integral to McCrow's work and is a reference to the mass production of AK47s; a mind boggling 75,000,000.
Beyond his art, McCrow founded the organization, One Less Gun, which aims to eliminate one million guns in conflict areas across the globe by supporting initiatives that work to collect undocumented weapons in conflict areas. In one grassroots initiative, he encourages those who stumble across the One Less Gun website to text "onelessgun" to 70007 in order to digitally destroy a gun for £5. At the Hoerle-Guggenheim Gallery, admirers can donate $10 and receive a round of ammunition engraved with the serial number of a deactivated weapon.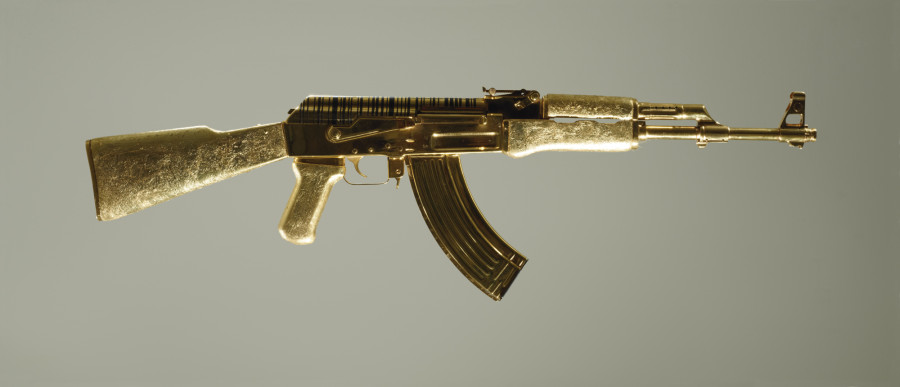 Gulf Sale, 24ct gold plate, gold leaf on wood parts, Size 87cm x 25cm: Removed from Iraq Decommissioned AK47 of Russian origin.
According to the United Nations Office of Disarmament Affairs, conservative estimates mention 7.5 to 8 million small arms being produced per year. McCrow leaves visible the barcodes and serial numbers of the guns destroyed on all his works, standing as a reminder of the dark reality of small arms proliferation.
"An underlying theme of the work is an exploration of moral insanity," McCrow adds on his website, "described 200 years ago as a decay of social affections, an aversion to the nearest relatives and friends formerly beloved; in short, a change in the moral character of the individual."
"History Interrupted, The Art of Disarmament" will be on view at Hoerle-Guggenheim Gallery in New York City from April 30 to May 28, 2015. All photos and captions provided by the artist or gallery.
Calling all HuffPost superfans!
Sign up for membership to become a founding member and help shape HuffPost's next chapter
BEFORE YOU GO
PHOTO GALLERY
The Art of Disarmament