If you've finally wrapped your mind around the distinctions between two major electoral forces -- super PACs and 501(c)(4) "dark money" nonprofits -- you'll now have to comprehend a third -- joint fundraising committees. Thanks to the McCutcheon ruling, joint fundraising committees have been super-sized and will undoubtedly become a vehicle for massive donations in the 2014 elections and beyond.
The 5-4 ruling in McCutcheon struck down aggregate campaign contribution limits preventing donors from giving more than $123,200 in total to federal political candidates, parties and PACs in the current election cycle. In practice, this limited the number of individual candidates that any one donor could support financially. But now a donor can give to as many candidates, party committees and PACs as he or she wants.
This is where the joint fundraising committee comes in. These organizations act as recipients of money to be distributed to campaigns, political parties and PACs. They make it easy for the wealthy but busy donor to write one big check, which the joint committee will then split up among its participating candidate and party committees.
The joint fundraising committee is not a brand-new invention: Its most prominent examples include the Obama Victory Fund and the Romney Victory Fund in the last election cycle. Those organizations allowed a donor to give the then-maximum contribution of $71,600, to be split among the relevant presidential campaign, the central political party committee and a series of state parties.
Now, a joint fundraising committee can link all candidates for federal office from the same party, their leadership PACs, and the appropriate national and state party committees together. This could net at least $4.5 million from a single donor -- with the likelihood of more depending on how many leadership PACs exist and are included.
Asking for large contributions for these committees appears to be fully with the bounds of campaign finance law. Both Barack Obama and Mitt Romney raised the money supporting them -- separate from independent group spending -- through their joint fundraising committees, by soliciting contributions well above the limits allowed for individual campaign committees.
The McCutcheon decision gives political top brass like Senate Majority Leader Harry Reid (D-Nev.), Senate Minority Leader Mitch McConnell (R-Ky.), Speaker John Boehner (R-Ohio) and House Minority Leader Nancy Pelosi (D-Calif.) a strong incentive to set up these joint fundraising committees and host events where they ask the richest Americans for millions of dollars. Obama, who has kept the busiest fundraising schedule of any president in history, would be able to do the same.
The Federal Election Commission initially approved joint fundraising committees in a series of rulings in 1977. More recently, their use had expanded dramatically even before the McCutcheon decision.
The prospect of super-sized joint fundraising committees also raises the possibility that political parties could circumvent the base limits on amounts directly contributed to a party or candidate.
In McCutcheon, Chief Justice John Roberts declared that striking down the aggregate limits on contributions creates no cause for concern about the circumvention of those base limits. But there is clear evidence of GOP presidential nominee Mitt Romney's joint fundraising committee providing funds to state parties in four noncompetitive states as a means of circumventing the base limits on contributing to parties in 10 swing states. The Huffington Post found at least 50 examples of donors to one of the four noncompetitive state parties who also gave the maximum contribution to a swing state party that received transfers of a noncompetitive state party's funds.
If Congress deemed it necessary to prevent any future circumvention, Roberts wrote, Congress could pass a new law to limit the amounts transferred between party committees. Congress, however, is incapable of passing even totally noncontroversial campaign finance legislation like a measure to require senators to file their campaign reports electronically rather than on paper.
Before You Go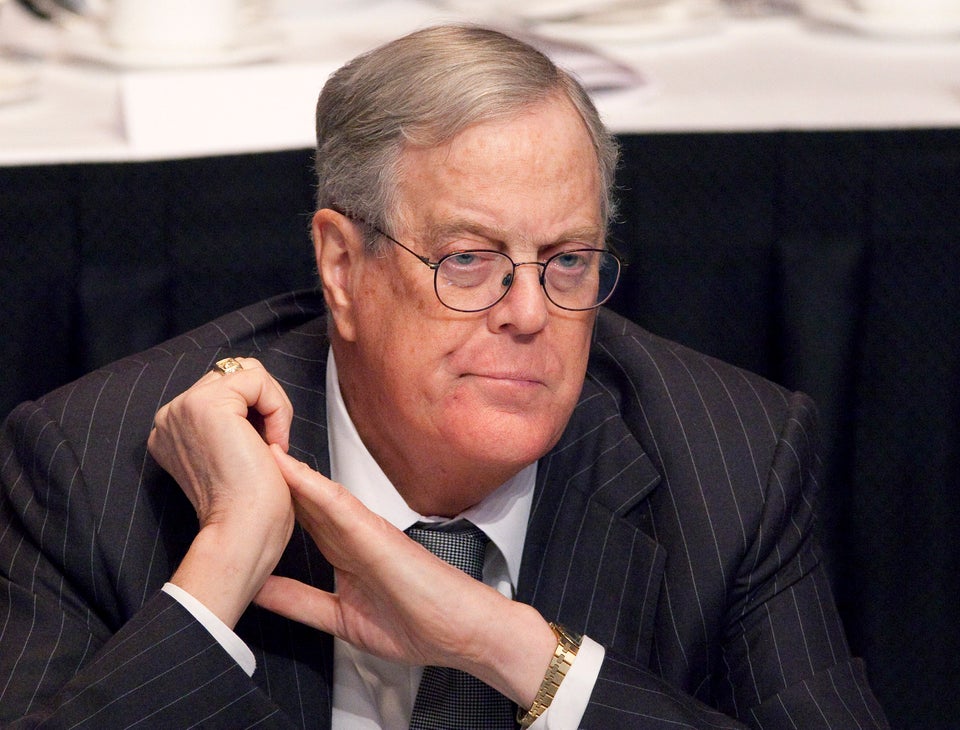 David Koch
Popular in the Community