Responding to suggestions from consumers and analysts that it add something bold to its menu, McDonald's announced it will bring back third-pound burgers. This time, however, the line is called Sirloin Third Pound burgers and the chain says it will be in stores later this month.
The NYTriState co-op isn't waiting: it tweeted the burger's arrival on menus this morning.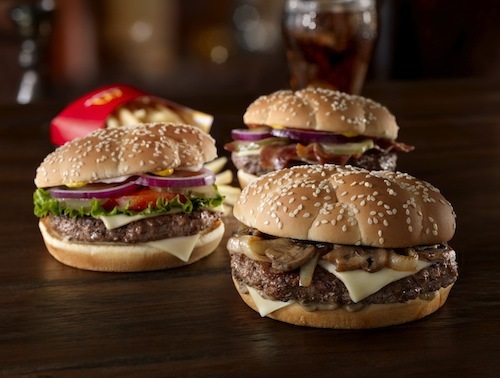 Janney Montgomery Scott analyst Mark Kalinowski tipped the sirloin burger's imminent launch yesterday. He suggested the build might be a Mushroom Cheddar and one of the three burgers in the line, the Steakhouse, has sautéed mushrooms (last seen on Angus burgers) and white Cheddar along with grilled onions, a new creamy peppercorn sauce and beef seasoning.
The other two varieties are the Bacon & Cheese Sirloin Third Pound with bacon, red onion, white Cheddar, pickles, mustard, ketchup and beef seasoning, and the Lettuce & Tomato Sirloin Third Pound dressed simply with leaf lettuce, tomato, red onion, white Cheddar, pickles mayo, mustard and beef seasoning. The bun is the same that was used with Angus Third Pounders.
The new burgers are priced at $4.99, putting them at the top of its pricing mix and just shy of the longstanding $5 ceiling for quick-service burgers. As reported yesterday, Wendy's is testing a Jalapeno Fresco Spicy Chicken sandwich at a price as high as $5.49.
Angus Third Pounder burgers had a four-year run at McDonald's, ending in May 2013. Since then, McDonald's has had a Double Quarter Pounders but no other big-appetite burgers.
Like McCafé, Create Your Taste customization and other ideas, the sirloin burger was tried first and recently at McDonald's in Australia Last October it launched a line of salads and wraps with sirloin, called rump steak in Australia. Jack in the Box offered Mini Sirloin Burgers from 2009 to 2011, but otherwise U.S. burger chains haven't tried sirloin as a burger choice.
In Spain, France and Italy, McDonald's has been using local beef breeds--such as Extremadura, Charolais , Piedmontese and Chianina--for limited-time special burgers that accentuate the chain's local sourcing commitment. The company says the beef for the Sirloin Third Pounders is 100% North American sourced.
Calling all HuffPost superfans!
Sign up for membership to become a founding member and help shape HuffPost's next chapter