McDonald's has put steak on the menu in Australia, adding two new McWraps (Steak & Garlic Aïoli and Steak & BBQ), a Steak Salad with Thai-Style Dressing and a Steak & Egg Brekkie Wrap for mornings. For budget buyers there is a $3 Mini Steak Taster wrap that's less than half the AUS$7.95 (US$6.96) price for the full-size wraps.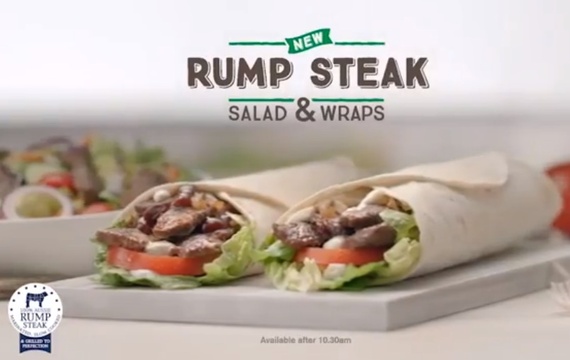 Unlike the steak products on its U.S. menu, which are chopped steak (as on the Steak & Egg Bagel), the Aussie menu features marinated and slow-cooked pieces of rump steak (which we call sirloin).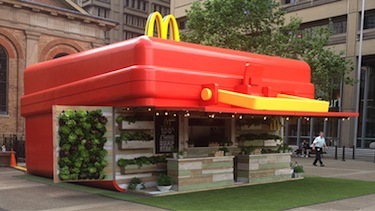 McDonald's is promoting the launch not only with broadcast and online marketing but also with pop-up restaurants designed to look like a huge lunchbox. Free $3 Tasters are being handed out. It is in Melbourne now but will pop up in Gold Coast, Sydney, Adelaide and Perth.
Australia remains one of McDonald's four troubled markets (along with the U.S., Germany and Japan). President-CEO Don Thompson this week said Australia's September performance was its best monthly comp sales since August 2012. The Loose Change value meal is helping and the rollout of the "Create Your Taste" customization kiosks could bring additional traffic.