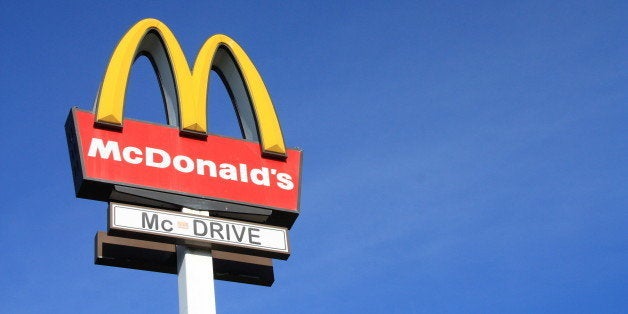 McDonald's begins testing all-day breakfast in San Diego beginning next Monday, April 20, but it won't be offering its full breakfast menu.
Just nine food items (plus McCafé beverages) will be on the post-10:30 a.m. menu, according to the San Diego McDonald's co-op. The iconic Egg McMuffin is there, of course, along with Sausage McMuffin with Egg, Sausage Burrito, Sausage McMuffin, Hash Browns, Hotcakes, Hotcakes and Sausage, Fruit & Maple Oatmeal and Fruit 'N Yogurt Parfait.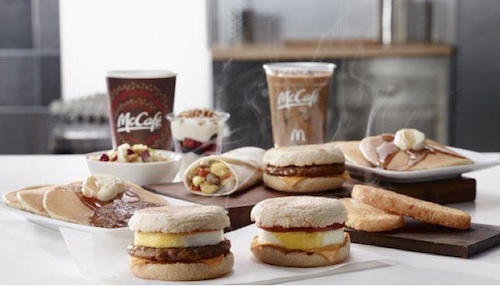 Participating stores won't be making biscuits all day and won't be preparing McGriddles past the usual 10:30 a.m. breakfast close. They won't be baking mini Cinnamon Coffee Cake or Double Chocolate bundt cakes all day, either. And if you're a fan of the Steak, Egg & Cheese Bagel you'll need to find a different choice for lunch or dinner.
The nine test items are essentially the same breakfast foods included in the "McDonald's After Midnight" menu, a mix of breakfast and lunch/dinner items (Big Mac, Quarter Pounder, Double Quarter Pounder, Chicken McNuggets and a few others) offered between midnight and 4 a.m. (after which the kitchen shifts to all-breakfast).
The point is that McDonald's already knows it can cook the San Diego all-day items alongside burgers, at least for a while. The all-day marriage is what's in test.
The problem of making sausage and eggs at the same time in the same space as burgers and chicken has kept McDonald's from extending breakfast hours before. It was two years ago that McDonald's operator J.M. Owens told BurgerBusiness.com, "We only have so much toaster space and so much grill space. Unlike a lot of breakfast QSRs, we still cook our product on a grill. Many of the pretenders are doing a ton of prep in microwaves. For instance, go into a Dunkin' Donuts or a Starbucks, who are chasing breakfast, and you don't find a grill or oven or fryer. We prefer to be a restaurant rather than processing everything through a microwave."
McDonald's first attempt at expanding breakfast in 2012, called "Breakfast After Midnight," tested a limited breakfast menu (similar to the San Diego test) from midnight to 5 a.m. Later that became the "McDonald's After Midnight" menu.
Members of the San Diego market's My McCafé Club loyalty group are being invited to a special preview of the all-day breakfast menu tomorrow (April 18). One attendee will win breakfast sandwiches for a year.