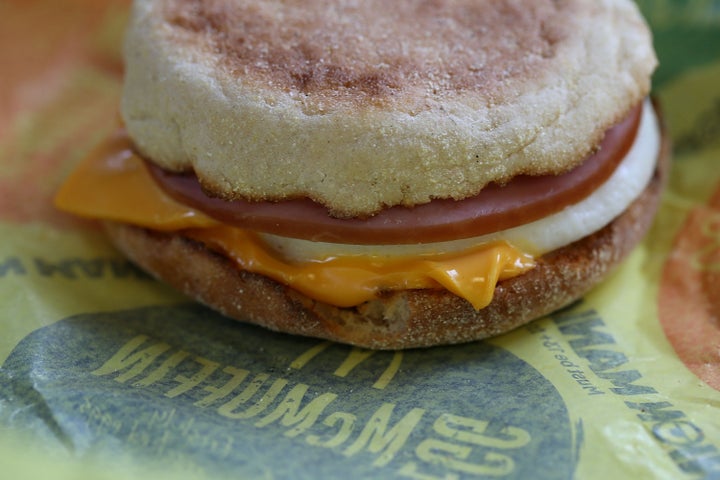 McDonald's is going cage-free.
The fast-food giant announced plans Wednesday to replace all eggs used in its nearly 16,000 U.S. and Canadian restaurants with eggs laid by hens raised outside of cramped cages. The transition, which will take 10 years to complete, comes as McDonald's plans to serve breakfast all day long, likely increasing its use of eggs.
Though cage-free eggs are more expensive, a McDonald's spokeswoman told The Huffington Post that menu prices will not rise.
"Our customers are increasingly interested in knowing more about their food and where it comes from," McDonald's USA President Mike Andres said in a statement. "Our decision to source only cage-free eggs reinforces the focus we place on food quality and our menu to meet and exceed our customers' expectations."
The company has struggled over the last two years with declining sales as smaller rivals such as Chipotle -- the fast-food industry poster-child for more natural, high-quality ingredients -- have devoured market share.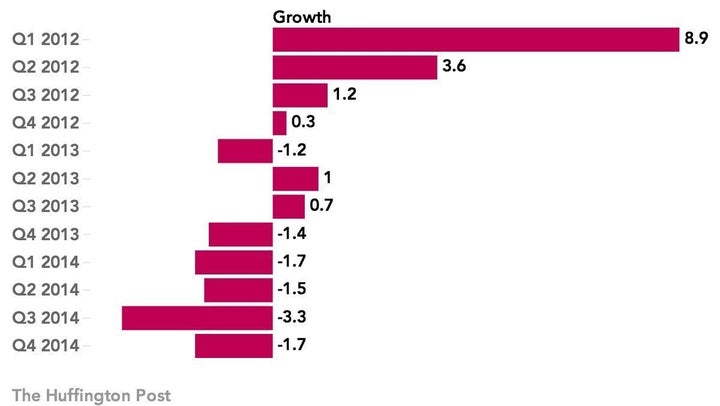 To regain some ground, McDonald's vowed in March to nix some of the antibiotics fed to chickens raised for meat. McDonald's birds are still fed ionophores, a form of veterinarian antibiotic given to flocks that catch diseases or parasites. Chipotle, which does not use meat from chickens that have been fed antibiotics, said the burger chain won't be "truly antibiotic-free" until it stops using meat treated with ionophores.
Birds used in chicken nuggets and patties are already raised in barns, according to McDonald's spokeswoman Becca Hary. That means egg-laying hens could still be subject to the same overcrowded housing conditions that breed illnesses requiring treatment via ionophores. Cage-free, as has been well-documented by animal rights advocates, is not synonymous with cruelty-free.
McDonald's said it has yet to suss out how to keep its supply chain humane, even once the company has switched over to cage-free eggs.
"Working in collaboration with our suppliers and industry experts, standards will be defined," Hary told HuffPost in an email on Wednesday. "McDonald's is transitioning to what is called a cage-free aviary system, which is a hen housing system where the hens roam freely through an open bar or section of a barn with multiple tiers and floor access."
Still, the sheer size and scope of McDonald's business makes even incremental moves toward more sustainable, humane animal husbandry impactful. Animal rights advocates praised Wednesday's announcement as historic.
"This is a watershed moment in a decades-long effort to eliminate the cruelest confinement from our food supply," Wayne Pacelle, CEO of the Humane Society of the United States, said in a statement. "McDonald's admirable move makes clear that egg production's future is cage-free."
McDonald's joins a cadre of major chains that have vowed to go cage-free. Nestlé and Starbucks unveiled plans last year to phase out eggs from caged hens. Over the last five years, Burger King, food supplier Aramark and Hellmann's mayonnaise maker Unilever transitioned to cage-free eggs. In May, Walmart -- one of the world's biggest retailers -- committed to treating animals more humanely.
"My hope is that McDonald's move will serve as an impetus for other restaurant chains and companies in the U.S.," Sonia Faruqi, author of the factory-farm book Project Animal Farm, told HuffPost. "It will be an indication that ethics can play a part in -- and not stand in contradiction to -- good business."
Popular in the Community