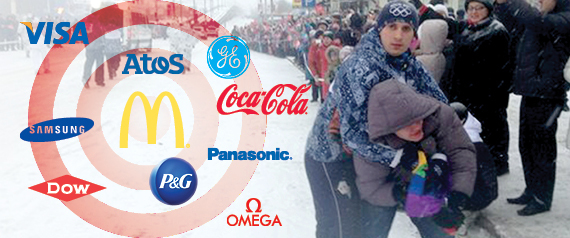 Way back in August 2013 the Human Rights Campaign sent an open letter to the top 10 American sponsors of the Sochi Olympics. The letter contained a list of demands, but also a warning: "Your logos and marketing will appear alongside every event, indelibly linking your brand to what happens in Sochi." (The letter can be read here.) Sage advice McDonald's would have been well-advised to take.
But they didn't. We've neither heard updates from HRC or had any new announcements from the sponsors. They may have forgotten, but the LGBT activist community has not. In November Minky Worden, director of global initiatives at Human Rights Watch, told the Associated Press, "It's taken months for the sponsors to formulate lawyerly responses that say nothing. We're going to work hard between now and Sochi to not let them off the hook."
And the backlash was swift:
By the end of Wednesday, a Twitter search of the McDonald's hashtag #CheersToSochi revealed that it was no hyperbole when the Bilerico Project's John Becker declared it officially "hijacked." Legions of LGBT protesters outnumbered everyone else in the feed. McDonald's had particularly bad timing. It was ill-conceived to launch this campaign while the sting was still fresh from reports of Olympic security officials tackling a young LGBT activist at a torch relay. It couldn't have helped that Jon Stewart was just about to focus his razor-sharp wit on the "Homophobic Olympics" Tuesday night.
The silence that paralyzes big Olympic sponsors from speaking out on behalf of LGBT Russians seems to extend to the marketing of this debacle. Just over two weeks out, save for NBC's promos, you'd scarcely realize we're on the verge of an Olympics by the looks of the marketing. Remember Coca-Cola's star-studded Olympic Ambassador team, announced with much fanfare back in June 2013? What ever happened to them? Has anyone seen Michelle Kwan stumping for Sochi? Coke's silence in particular is odd given the huge investment they have made. Browse Coke's YouTube channel. You'll find literally hundreds of videos boasting of their sponsorship of the 2014 World Cup, but hardly a one about the 2014 Olympics -- almost zero if you subtract the Russian-language videos not intended for Western consumption.
Social media campaigns are particularly perilous, given that they are far more a dialogue than a monologue, as McDonald's found out. The company is usually a Chatty Cathy to folks on Twitter; they have not responded to any LGBT objectors. This may explain why, in my personal, unscientific survey, the American sponsors have been pretty quiet about the Sochi Olympics on Twitter and Facebook. United Airlines has discovered that Sochi Facebook posts attract objections. Deleting unflattering comments is unseemly -- and worse, it can quickly snowball into the dreaded Streisand effect
They are vulnerable to infiltration, as Coca-Cola discovered when LGBT activists in England used their Christmas Truck Tours as a backdrop for a protest. Deleting the pictures from Coke's corporate site merely gave fodder to the LGBT media.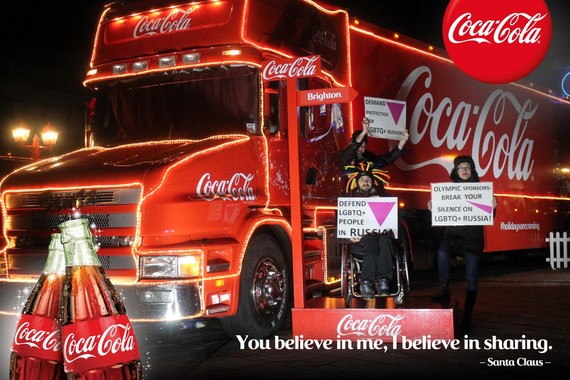 Unfortunately for the sponsors, the cancer seem to be spreading. By Wednesday, Twittivists were also using #CheersToSochi to target and tag other U.S. sponsors, like VISA, who had previously been pressured by Democracy for America:
It's perhaps fitting if #CheersToSochi now evolves into an ironic sponsor protest tag. The LGBT community has long been quite gifted at sarcasm, irony and re-appropriation.
Lest you feel sympathy for these victims of big gay bullies, be reminded of this: In August 2013 HRW's Worden told Michelangelo Signorile that they could have stopped Russia's anti-gay law -- and didn't. She said, "The International Olympic Committee, the United States Olympic Committee, the so-called top corporate sponsors -- Coca-Cola, McDonald's, Procter & Gamble -- these companies all, as [HRW] did, tracked the progress of this law." The blatant violation of the Olympic Charter would have been reason enough for these corporations to lean on Putin to put the breaks on the bill, lest they pull their sponsorship. They never bothered to flex that muscle.
Related
Popular in the Community