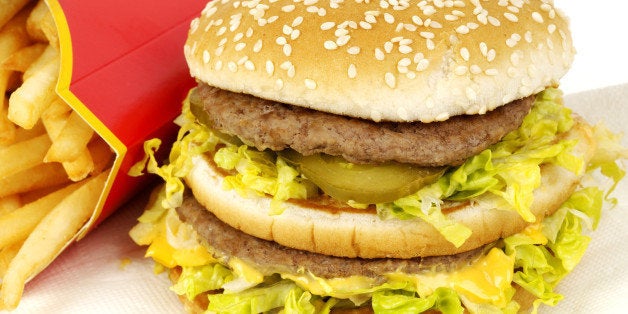 McDonald's took a major step toward shaking its image as a purveyor of unnatural food on Wednesday when the chain announced plans to rid its U.S. chicken supply of human antibiotics.
But McDonald's hasn't gone to the same lengths as its upstart rival Chipotle, the burrito chain whose fresh, antibiotic-free ingredients have sent sales soaring in recent years while McDonald's numbers have slumped. McDonald's plan falls short in two major ways: It won't remove every kind of antibiotic from the company's chicken, and it won't affect other types of meat at all.
The company said it will continue to use ionophores -- a form of veterinarian antibiotic given to flocks that catch diseases or parasites -- to treat sickly birds. Though the antimicrobials don't pose a threat to consumers, they serve as a quick fix for illnesses borne of overcrowded, unsanitary farming conditions. Therefore, the continued use of ionophores suggests the quality of life for McDonald's chickens -- as well as the quality of their meat -- may not be improving any time soon.
Chipotle, the industry's poster child for antibiotic- and hormone-free protein, said McDonald's can't call its chicken antibiotic-free until it removes ionophores from the farming process.
"Using [ionophores] in poultry or animal production is simply not necessary with proper animal husbandry," Chris Arnold, Chipotle's spokesman, wrote in an email to The Huffington Post. "McDonald's decision to phase out antibiotics that are used to treat illness is an important first step, and we'd love to see others follow suit. But to be truly antibiotic-free, you need to stop using ionophores as well."
"This is an example of a corporation looking for a quick fix, given the range of criticisms that McDonald's is fielding left and right," Kara Kaufman, a spokeswoman at the Boston-based nonprofit Corporate Accountability International, told HuffPost. "This is the least that McDonald's can do."
Still, as one of the country's largest buyers of chicken, McDonald's is sure to capture the attention of suppliers and competitors with this week's announcement. The fast-food industry has been steadily moving away from antibiotic use. Last year, behemoths Perdue Farms and Tyson Foods released lines of antibiotic-free chicken, and the chain Chick-fil-A announced plans to rid its chicken of all antibiotics, including ionophores.
Meanwhile, human antibiotics will still be present in McDonald's staples like the beefy Big Mac and the pork McRib.
"This doesn't cover everything," Caroline Smith DeWaal, food safety director at the nonprofit Center for Science in the Public Interest, told HuffPost on Wednesday. "We would like to see their next announcement be on antibiotics used in beef or pork products."
McDonald's did not respond to emailed questions about whether changes were coming to its beef and pork supplies.
Exposure to human antibiotics through meat has given rise to antibiotic-resistant "superbugs," which researchers have warned could kill up to 10 million people worldwide by 2050 if left unchecked. Removing the antibiotics from the meat used in fast food is one step toward combating that threat.
McDonald's announcement comes just four days after Steve Easterbrook, the company's new chief executive, took office. Easterbrook, formerly the company's chief brand officer, replaced former CEO Don Thompson, whose tenure was marred by two years of declining sales and controversies around labor disputes and protests over low wages.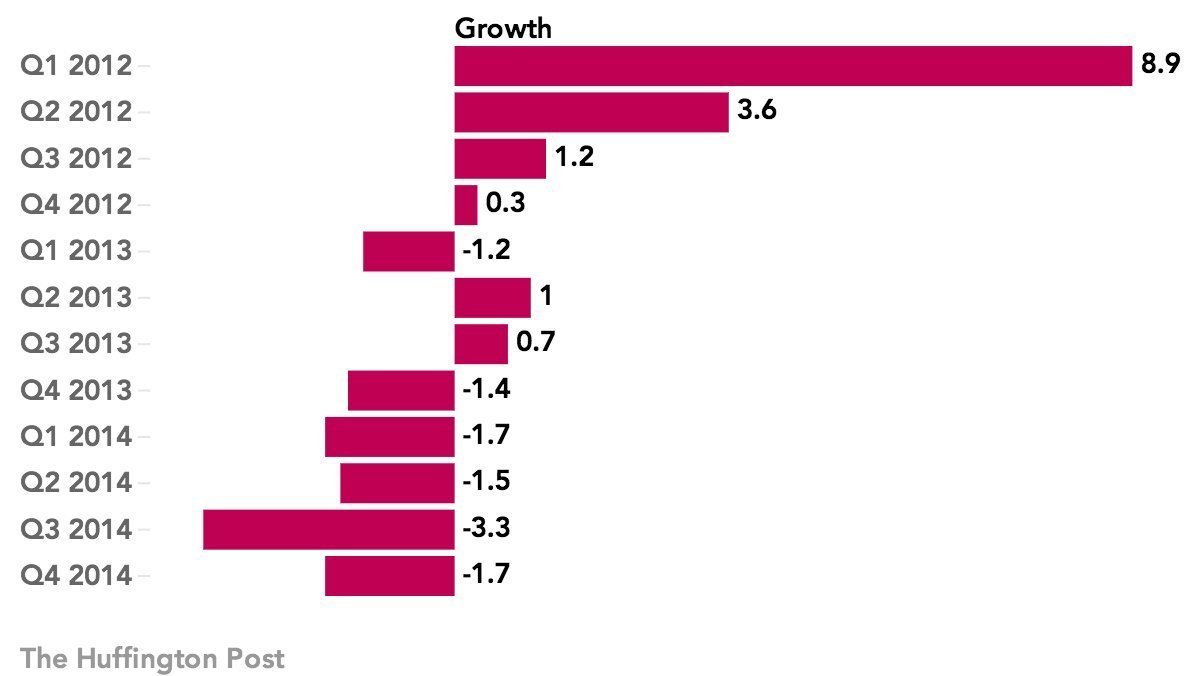 Above, McDonald's quarterly U.S. same-store sales growth. Don Thompson became CEO in July 2012.
Popular in the Community