McDonald's menu continues to expand as the new Dollar Menu & More adds five more beef and chicken burgers. At the same time, as previously reported, McRib has returned. This time around it is being touted as "The Ultimate Pork Sandwich."
In Chicago at least, the Dollar Menu & More expands on the old Dollar Menu with the addition of two new items priced at just $1: the Buffalo Ranch McChicken (350 calories) and taco-chip-topped BBQ Ranch Burger (350 calories).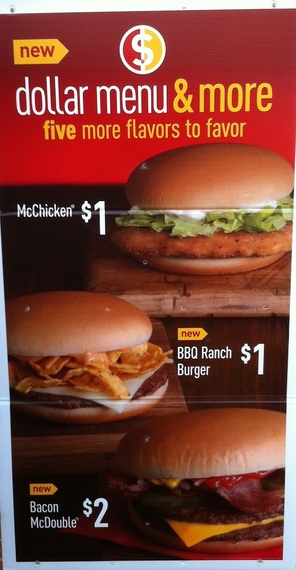 Three $2 items also are new: the Bacon Cheddar McChicken (400 calories), Bacon Buffalo Ranch McChicken (420 calories) and the Bacon McDouble (460 calories).
That means the Dollar Menu & More menu board already is getting crowded. In total the budget selection now includes 26 items: 11 different lunch/dinner sandwiches, four breakfast choices, five sides, four beverages plus 20-piece McNuggets ($5) or 4-piece McNuggets ($1.99).
McRib is priced in Chicago at $2.99 but it is priced as high as $3.19 in other markets where it has been introduced.
The Dollar Menu & More lineup also may vary by market. The chain recently has tested a variety of different low-end offerings including a Dijon Swiss McDouble, Bacon Hot 'n Spicy McChicken, McChicken Deluxe and others. Carryovers from the previous Dollar Menu include the $1 Grilled Onion Cheddar burger, the $1.19 McDouble and the $1.49 Double Cheeseburger.
Speaking to analysts last month, McDonald's CEO Don Thompson said "the new Dollar Menu and More platform is designed to provide every day predictable value beyond the $1 price point and will be supported with the weight of our national advertising. The sandwich lineup, which ranges from $1 to $2 adds new flavors and tastes to complement our existing favorites and provides additional pricing flexibility for the McDouble."