It's likely more symbolic than significant, but 43 years after the slogan was written for McDonald's first national TV campaign, putting the brand on the map, McDonald's Corp. has abandoned its trademark for "You deserve a break today." Ad Age rated it the top advertising jingle of the 20th Century. Now it can be yours.
Keith Reinhard, the legendary ad man who created "You deserve a break today" in 1970, recently recalled that a McDonald's exec asked how long he thought the campaign would last. "I said, 'You should stop running this campaign when people no longer deserve a break,'" Reinhard, now chairman emeritus of DDB Needham, told Advertising Age.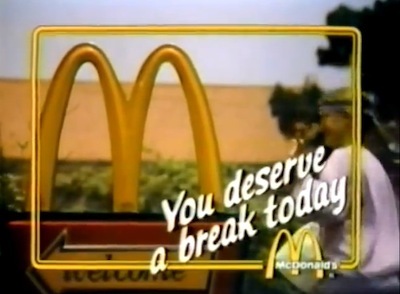 Reinhard was a creative director at Chicago agency Needham, Harper & Steers in 1970 when it was among the agencies invited to pitch McDonald's national ad account, which was valued then at an impressive $35 million. Last year it reportedly spent $1.43 billion on U.S. advertising, with DDB Needham still its lead U.S. agency.
If you think that "You deserve a break today" is a bit corny, realize that a McDonald's executive raised that same objection when the line was pitched. He was overruled. "[McDonald's Corp. Founder and Chairman] Ray Kroc said in his high-pitched voice, 'Nothing wrong with a little corn!'" Reinhard recalled him saying. "And I knew we were in good shape."
Reinhard-whose book Any Wednesday was published earlier this year-has said that part of the power of the line he wrote was that "You deserve..." granted consumers permission to indulge in a fast-food meal at McDonald's. And the lyrics were particularly appealing to Kroc, who was a stickler about cleanliness:
Grab a bucket and mop,
Scrub the bottom and top.
There is nothing so clean
As my burger machine!
With a broom and a brush
Clean it up for the rush
Before you open the door,
Put a shine on the floor!
When we've finished, what then?"
Start all over again!
Tell me, what does it mean?
At McDonald's it's clean!
You deserve a break today!
So get up and get away!
To McDonald's! McDonald's! McDonald's!
"You deserve a break today" was first used in 1971 in a TV commercial that featured actor John Amos--later the father on Good Times, the adult Kunta Kinte in Roots and other roles--dancing with a bucket and mop. Sidney Woloshin composed the music for the jingle (despite frequent erroneous reports that Barry Manilow wrote the words and/or music), a credit that was the lead to Woloshin's obituary in 2000.
"You deserve a break today" was revived for ads in 1981 and 1982 after Chicago's Leo Burnett replaced DDB Needham as lead agency. In 1995, Burnett tweaked it as "Have you had your break today?" and that was the line's last hurrah.
In July 1997, McDonald's sales were struggling. Ed Rensi stepped down as president of McDonald's USA. And the McDonald's account, then $400 million, was returned to DDB Needham.
Several years ago, McDonald's abandoned its trademark claims to "We do it all for you," one of the many memorable ad slogans it has used over the years. But "You deserve a break today" was the first real tagline, the iconic one and the one that many people still can hum.
McDonald's again finds itself struggling to ensure its relevance. Sales are down again. Mike Andres was named president of McDonald's USA in August, succeeding Jeff Stratton, who stepped down. "You deserve a break today" wouldn't necessarily put the brand back on the tracks now, but it's probably worth remembering that what first made the brand relevant was its slogan's commitment to simple, clean operations and to being a tasty reward for everyday living.
Related
Popular in the Community