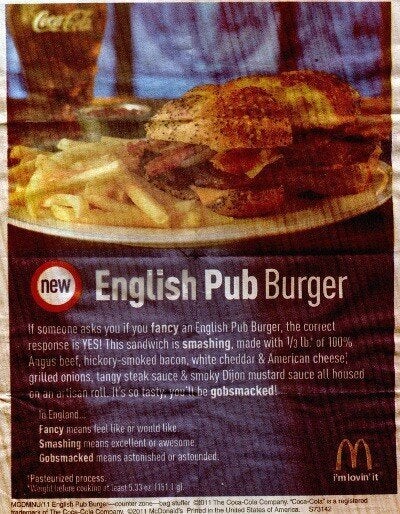 McDonald's is testing an English Pub Burger in certain Illinois locations, and initial reviews are rather positive. According to marketing materials, the burger consists of "1/3 lb of 100 percent Angus beef, hickory-smoked bacon, white cheddar and American cheese, grilled onions, tangy steak sauce and smokey Dijon mustard sauce all housed on an artisan roll."
A GrubGrade reviewer remarked, "This burger just works and tastes unlike anything I've ever had from McDonald's. In case you couldn't tell, I'm impressed." Another early reviewer said, "this burger is really amazing...I have eaten a total of 3 of these burgers in the past week, and they are one of my favorites."
Taste aside, we're struggling to understand what makes this burger English. It certainly isn't the American cheese, or the Dijon mustard...or even the Angus beef (originally a Scottish breed). This is the first "English" item on McDonald's American menu, but not the first time that the chain has attempted to market location-specific food items. For example, the NYCrispy burger has been featured around Europe (because when you think of New York City, you think of crispiness, clearly).
Rumors are that the burger is heading for Houston after August, but there's no sign of it hopping across the pond.