McDonald's is letting UK customers handle the tricky matter of menu development, if only briefly, through its popular crowdsourcing promotion, My Burger. First introduced in Germany in 2011 (as "Mein Burger), the program invites burger lovers to create their own. McDonald's will put the five winning burgers on its menu this fall as one-week LTOs. This is the promotion's first appearance in the UK.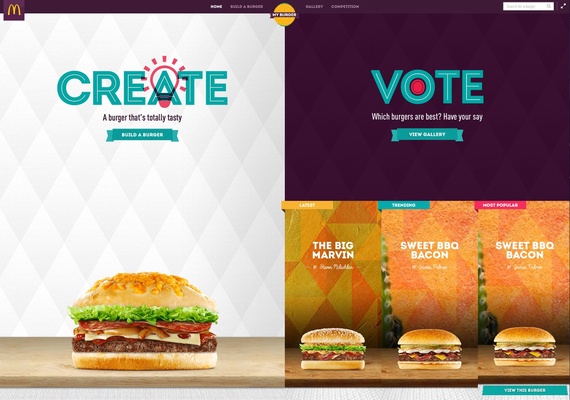 Customers can go to the https://myburger.mcdonalds.co.uk site to begin dreaming. Using a "burger builder" function, customers can choose up to six ingredients from a list of 80 possibilities already in the McDonald's pantry. Visitors vote online for the burger they want to see on the menu. Voting closes on June 15.
On June 29, a panel that includes English rugby legend Phil Vickery along with company representatives, one independent expert and one consumer will evaluate the 12 most popular burgers. The five winners will each get a one-week LTO run in October and November.
Said Alistair Macrow, SVP-chief marketing officer for McDonald's UK: "Customization and digital engagement are becoming an integral part of how consumers interact with companies and we want to continue to innovate as a brand. That's why we're giving our customers the unique chance to design their own burger online with the potential for it to sit side-by-side with the likes of the iconic Big Mac. To canvass the public's support and pass the taste test of our judging panel, customers will have to think about what looks, sounds and tastes great."