McDonald's is considering menu boards that present customers with lower prices on some core items and a limited "Mickey D's best" selection at both the drive-thru window and inside counter.
The Wall Street Journal this week outlined some of the plans the company recently shared with its operators, including simplifying the drive-thru menu and strengthening its array of midprice items between $1.50 and $3. BurgerBusiness.com has learned that advertising prepared for the company shows it has a new "Build Your Meal" approach to ordering that could be offered to both inside and drive-thru customers.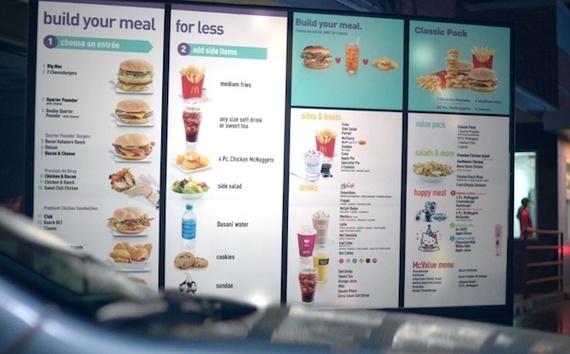 "Here's to a new day," one drive-thru-focused commercial begins. "Introducing lower prices on many entrees. From classic faves to premium tastes. It's Mickey D's best for a price that's even better."
Another commercial, focused on counter ordering says, "Now enjoy lower prices on classic tastes like the Big Mac or Quarter Pounder with Cheese. You can build a meal you love for a price that's even less."

"Build Your Meal" isn't a customization format like "Create Your Taste" or "TasteCrafted." It facilitates speedier ordering and service. Menu boards at the drive-thru or counter guide ordering: "Step 1: choose an entrée" from among core items such as Big Mac, Quarter Pounder with Cheese, Premium Chicken Sandwich or 10-pice McNuggets. Step 2: add side items. The choices are any size soft drink/sweet tea, medium fries, side salad or dessert.
The choices are limited but it guides customers through assembling a combo meal with higher-margin sides and drinks. Operators will like that.
Also included on inside and outside menu boards is a new bundled, multi-person Classic Pack option with two Quarter Pounders, two medium fries, 20-piece McNuggets and four sauces. A smaller Value Pack meal may also be offered.
Lower-priced "McValue Menu" items aren't excluded. But on the drive-thru menu they're listed below Happy Meal options. McCafé beverage options also their own menu-board panel.
McDonald's menu boards are digital, so they could easily be rearranged to feature limited-time specials or core products other than those shown. I don't know when or if this "Build Your Meal" approach could be adopted systemwide, and the company's not saying what it discussed with its franchisees. But it's clear that simplifying ordering and steering guests to more popular, more quickly prepared or more profitable items is what the chain has in mind for the "modern, progressive burger company" it is building.
REAL LIFE. REAL NEWS. REAL VOICES.
Help us tell more of the stories that matter from voices that too often remain unheard.