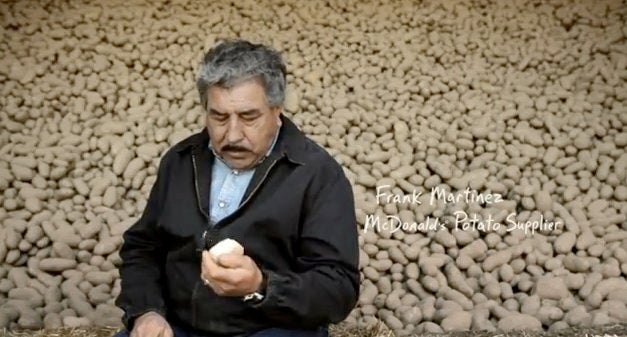 On Wednesday, chief marketing officer Neil Golden tweeted on the McDListenTour handle, "1 thing we're doing is tellng our farm 2 fork story abt our food.Ads debut in Jan but here's a sneak peek! http://bit.ly/uP7EZO #McDChanging." The ad, shown below, features a potato farmer biting into a raw potato, declaring, "They're good now. Just wait until they're McDonald's fries." Future ads include suppliers of lettuce and beef. Ad Age refers to these individuals as "secondary suppliers." "McDonald's works directly with 250 suppliers, including Cargill, Lopez Foods, Golden State Foods, Simplot, Lamb Weston and Coca-Cola," Ad Age explains.
In a similar vein, Wendy's tagline, "You know when it's real," also focuses on "true" ingredients, according to Nation's Restaurant News. This relationship between sourcing and taste can also be seen in Burger King's new ad strategies, which focuses more on freshness. Red Lobster's focus on "real fisherman" also tries to extend the connection between what you eat, and who helped put it on your plate.
The big question, now, is whether these ads actually have an effect. And if they are telling the truth. After all, who wouldn't trust a farmer that eats a raw potato?
Related
Popular in the Community