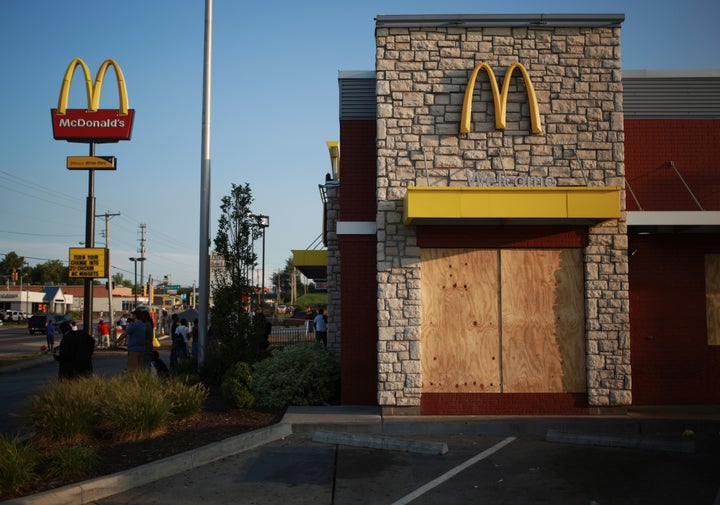 NEW YORK -- Since St. Louis County prosecutors filed charges last week against two journalists for trespassing and interfering with police at a McDonald's restaurant during last year's demonstrations in Ferguson, Missouri, the fast food chain has not commented.
St. Louis County police arrested The Huffington Post's Ryan J. Reilly and The Washington Post's Wesley Lowery at the McDonald's on Aug. 13, 2014, for supposedly not following orders to leave the restaurant, which was being ordered closed, quickly enough. Both reporters were released later that night as word of their arrests went viral, and police didn't press any charges at the time.
Later that day, St. Louis County Counselor Peter Krane defended his office's decision to charge Lowery and Reilly, as well as numerous protesters involved in demonstrations last year. County officials have recently sent out hundreds of summonses related to the protests, drawing scrutiny from the American Civil Liberties Union and other groups.
McDonald's, however, has kept mum on the charges against the journalists. Company spokeswoman Lisa McComb did not respond to phone and email requests over several days. McDonald's corporate press office did not respond to a separate email request.
The silence on the part of McDonald's is rather striking given that the company responded to Twitter users who asked the day after the arrests if employees had asked police to evict or arrest the reporters.
McDonald's management had been well aware journalists covering demonstrations following the Aug. 9, 2014, killing of Michael Brown were using the restaurant as a "de facto headquarters," a place to not only eat and get coffee, but also recharge phones and use WiFi to file stories. The McDonald's did close a few times last year as a result of nearby demonstrations, but is currently up and running.
If McDonald's management considered Reilly and Lowery to be agitators who had trespassed in the restaurant and interfered with police work, that wasn't apparent in the days immediately after their arrests.
Just hours after the arrests, Keith Eyer, the manager of the location in question, described the incident between the journalists and police as "a terrible thing."
Eyer, who is slated to be a government witness in the case, referred The Huffington Post's call on Tuesday to a McDonald's human resources consultant who had no comment.
However, both Reilly and Lowery visited the restaurant in the days after their arrests, and described friendly exchanges with Eyer and other employees.
Lowery posted on Twitter last week after the charges were filed that he had a positive interaction with the manager.
Related
Popular in the Community